Former Indiana Lieutenant Governor Richard O. Ristine '41, one of Wabash College's most beloved sons and a descendant of the founders of both Wabash College and Crawfordsville, died Saturday morning, June 20, in his home in Leland, Michigan, after a brief illness.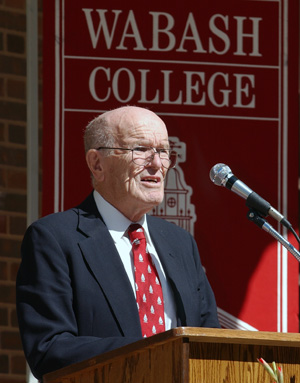 "He was the quintessential Wabash gentleman," Wabash College President Pat White said upon hearing of Ristine's passing. "He was courageous in times of trouble, humble in times of great success, and through it all, wise and caring, generous and kind, with an amiable spirit marked by wit and humor and a fine appreciation of life and learning.
"He loved Wabash with a deep and abiding love and served the College in extraordinary ways over so many years. We will all miss him so very much."
Born in Crawfordsville, Ristine practically grew up on the Wabash campus, visiting his uncle, Professor Insley Osborne, attending Commencement ceremonies, even serving as Wabash President Louis Hopkins' driver during his student days.
He graduated Phi Beta Kappa from Wabash, won the prestigious John Maurice Butler Prize for scholarship and character, and was Commencement speaker for his Class of 1941. After earning his law degree from Columbia University, he served in World War II with the Army Air Corps in the Philippines and Japan.
Following his honorable discharge in 1946, he married Mary Lou ("Lou") Durrett, to whom he had written a letter nearly every day during his military service.
After launching his legal career with the Baker & Daniels law firm in Indianapolis, he moved his family to Crawfordsville to practice law here. Following in the footsteps of his grandfather and great-great grandfather, who had served in the Indiana General Assembly, he was elected in 1950 to the Indiana State Senate.
Elected Lieutenant Governor in 1960, Ristine cast the deciding vote in 1963 to establish the state sales tax, one of the most dramatic moments in Indiana's legislative history and an act of political courage that probably cost him the Governor's office.
Recalling that vote, historian Geoff Paddock wrote in Traces of Indiana and Midwestern History magazine, "Public service is a noble calling, and standing up for principle is more important than political gain. Perhaps no Hoosier has exemplified that spirit any better than Richard O. Ristine."
In Indianapolis he was a vice president of L.S. Ayres before becoming executive vice-president of Lilly Endowment, Inc.

Ristine served as chairman of the Indiana State Historical Society, was named Sagamore of the Wabash by six Republican and four Democrat governors, and worked for the protection of Sugar Creek in Montgomery County and with charitable organizations and conservation groups in Leelanau County, Michigan, after retiring to Leland in 1997.
He received honorary degrees from five Indiana colleges, but he was most passionate about Wabash College, where he was a trustee and had served as treasurer and director of development. Thomas, one of his three sons, graduated from the College in 1972, and his grandson, Daniel, graduated as a member of the Class of 2007.
In October 2008, the College's Board of Trustees passed a resolution celebrating Ristine's 50 years of service to Wabash in which Board of Trustees President Stephen Bowen '68 noted that Ristine "had brought great honor to his family and all of Wabash through a lifetime of achievement that has made him quite possibly the most widely known and respected living alumnus of the College."
"Dick is perhaps more closely connected to this College and this town than any other person I can think of," Wabash College Archivist Beth Swift said Monday. "His ancestors were founders of the town—The Ristine Tavern witnessed the birth of Crawfordsville. His ancestors on his mother's side were the founders of Wabash. Dick's great-grandfather sat in Caleb Mills' first class and his great grandfathers' brothers knelt in the snow. Raised just around the corner from campus and graduating with highest honors in 1941, Dick is of both the town and the college, bringing them together in a way that no other person, now living, can touch. He carried these two histories with grace, wit and a friendly charm.
"In May, I had a last chance to chat with Dick, hear a few more stories and to wish him the best. Although he was tired and his family was a little worried that he might overdo it...he had his typical enthusiasm for a good tale. He insisted that he was fine and said, 'I could talk forever about Wabash.' As I left Kane House that day, I cried. Not just for the lovely man we would all miss, but also for the loss to the history of this place. If a man's life is measured by the hole he leave behind, then truly, Dick Ristine was a giant among men."
In 1990, Montgomery Magazine noted that Ristine was "not impressed by the prestigious positions he's held and the honors he's received." The article then quoted Ristine: "It's the day-to-day living and loving that really makes a life worthwhile."
Ristine is survived by Lou, his wife of 62 years and one of only six honorary alumnae of Wabash College; three sons, Richard Ristine Jr. (Karen), Thomas Ristine '72 (Jill), and James D. Ristine (Mardi Black); four grandchildren and four great-grandchildren.
A memorial celebration will be held on June 27, 2009, from 2 to 4 p.m. at the Leland Lodge in Leland, MI, and a memorial service will be held in the Wabash College Pioneer Chapel some time after the start of the 2009-2010 academic year.
Read a complete obituary here.