Five years ago, Wabash wrestling coach Brian Anderson had an idea to give him a leg up on recruiting wrestlers to Wabash. Anderson knew that by bringing wrestlers to campus over the summer for intense week-long skills camps, he'd have a great way to introduce them to the College.
The plan is clearly working and lots of kids are being introduced to Wabash through wrestling.
"We started this five years ago as a way of bringing lots of young wrestlers to campus," he said with activity all around him in Wabash's Knowling Fieldhouse. "It's good for the kids because they come here, have an amazing time at camp, and they see how great our facilities are.
"This year we had three incoming freshmen who came to our camp at least once."
See pictures from Monday here.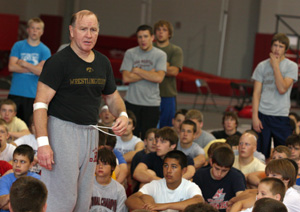 The Brian L. Anderson Little Giants Wrestling Camp has grown in each of the years since that first summer. This year's camp included over 320 wrestlers from three states.
Anderson has grown the camp by making connections to world-class clinicians from all over the United States. "Our camp costs less than most camps, and yet we have the biggest names; we've got the Olympians," said Anderson.
The biggest name in amateur wrestling was the clinician Wednesday. Olympic gold medalist, legendary Iowa wrestling coach and the sports biggest ambassador Dan Gable worked with the young athletes.
See photos from Wednesday morning's session here.
Tuesday's instructors were Joe Heskett, a coach at Ohio State University, and Reece Humphrey, an Indianapolis native and member of the Ohio State wrestling team. See pictures from Tuesday here.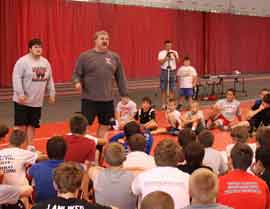 Heskett was a four-time All-American at Iowa State before earning a silver medal at the 2007 World Championships. Clearly a coach through and through, Heskett had the wrestling campers listening to every word and diligently practicing his techniques.
Humphrey, who attended Lawrence North High School in Indy, won three Indiana state championships while compiling a record of 177-7. In two varsity seasons with the Buckeyes, Humphrey has twice qualified for the NCAA National Championships. Last summer, Humphrey won a silver medal at the World University Championships.
On the first full day of camp on Monday, the wrestlers — ranging in age from kindergarten through high school — got to learn technique and spar with two of America's best names in wrestling. Bruce Baumgartner (above right), America's only four-time medalist in Olympic wrestling, was teaching upper body moves in the morning session. A two-time gold medalist, Baumgartner carried the American flag during the opening ceremonies of the Atlanta Olympics.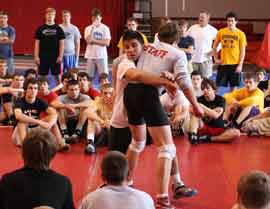 At the other end of the Fieldhouse on Monday, Henry Cejudo (left) — the 2008 Olympic Gold Medalist at 121 pounds at the Beijing Games — was showing the wrestlers a move he used during the Games. The lightweight wrestlers were especially tuned in to Cejudo, who at 21 became America's youngest gold medalist when he won the Olympic title last summer.
On Wednesday the biggest name in American wrestling will be on the Wabash campus. Dan Gable, who has coached wrestling teams at the NCAA, World, and Olympic levels, will be front and center. As a wrestler, Gable went 118-1 with two national titles at Iowa State and won the gold medal at the 1972 Olympic Games in Munich while not giving up a single point.
Thursday morning was devoted to dual meet action. If there were not enough wrestlers from a particular school, they were divided up into all-star teams. One of the keys for Anderson's camp is his athletes. Many Little Giants returned to help run the three-and-a-half day camp.
See Thursday morning photos here.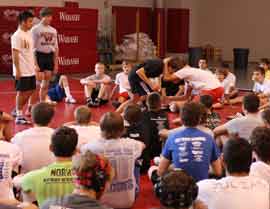 Gable later coached Iowa to 15 NCAA championships and 21 Big Ten championships. He coached the US Olympic Wrestling Team at the 1980, 1984, and 2000 Olympic Games.
"I started these camps to expose some guys to Wabash College and it's just exploded since then," said Anderson. "Guys from our Wabash team, including the incoming freshmen, are here working as counselors and they do a great job for us.
"And you just can't beat the instruction," added Anderson. "If you think about it, these kids will have over 20 hours of technique instruction this week — from guys like Cejudo, Baumgartner, and Gable. And every night they wrestle at least three dual matches, so they'll get 12 competitive matches over the course of the week."