Aouad's Record-Setting Run Earns Nationals Berth
by Brent Harris • May 16, 2009

Share: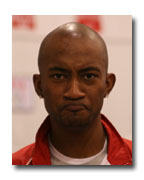 Junior Emmanuel Aouad broke the decades-old record in the 110-meter high hurdles Friday at the Gregory Track & Field Invitational at North Central. His time of 14.68 earned a provisional spot at the upcoming NCAA Division III National Championship Meet.
Aouad's second-place time was .2 faster than the previous Wabash record of 14.70 set in 1970 by Dave Himmelhaver '73 and equaled by Joel Huff '78 in his senior year. Aouad (right) could also become the first Wabash sprinter to advance to the nationals since John Archie '96 competed in the 400-meter hurdles as a senior.
Aouad will learn Sunday if his time is fast enough to attend the championship meet at Marietta College May 21-23. His time equals the cutoff for the 2008 nationals field.
"I am so pumped for E-Man," Wabash head track and field coach Clyde Morgan said. "He has worked so hard and I've been all over him to keep working. He really started responding two weeks before our conference championship meet."
Aouad was one of six Little Giant athletes competing for a place at the NCAA championship meet. Sophomore Wes Chamblee was less than .4 from joining his teammate as a qualifier. Chamblee took sixth place with a time of 54.66 in the 400-meter hurdles, just shy of the provisional qualifying time of 54.30. Freshman Kevin McCarthy raced against a talented field of runners in the 800 meters. The top-seven finishers crossed the finish line with times faster than the qualifying mark of 1:53.00. McCarthy finished 16th with a time of 1:54.94. Alex Moseman, Donovan White, and Hugh Jackson also raced at the North Central meet.
Game Stats