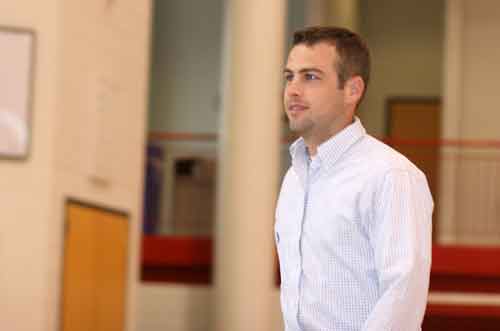 A senior biology major and a religion major who has completed his college education in just five semesters received the top awards for seniors at Saturday morning's Dean's Breakfast.
Dean of Students Mike Raters '85 presented Brock Graham with the Frank H. Sparks Award for All-Around Student Achievement, given to a senior who has done the most "to promote the true spirit and purpose of Wabash College." Graham, a religion major/rhetoric minor, earned the Senior Award of Merit in April and has accepted a position as youth pastor at the Pleasantview Baptist Church in Crawfordsville.
Dean of the College Gary Phillips presented Austin Kline with the John Maurice Butler Prize for Scholarship and Character. The Butler Prize is awarded to the senior "having the best standing in scholarship and character." In April, Kline had received the George E. Carscallen Prize for his outstanding work in biology.
(See photo albums from Saturday's breakfast and awards presentation here and here.)
In photo: Senior Austin Kline steps forward to received the John Maurice Butler Prize at Saturday morning's Dean's Breakfast.