After Wednesday night's 3-2 victory over DePauw University, Wabash head baseball coach Cory Stevens took a moment to reflect on the season to this point. His Little Giant team has already posted more than 20 wins for the second consecutive season, won 11 North Coast Athletic Conference games for the first time, and had just beaten their arch-rivals for the first time in nine seasons.
Now another new experience is on the horizon. Wabash will travel to Wooster, Ohio Saturday to participate in the NCAC Baseball Tournament for the first time since joining the league during the 1999-2000 academic year. The Little Giants will play the College of Wooster in a best-of-three series with two nine-inning games scheduled for Saturday. The third game would take place Sunday afternoon.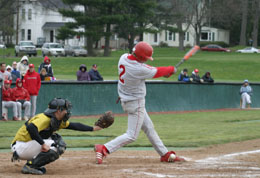 The Little Giants tied for the NCAC Western Divisional title, but missed an opportunity to host the first round of the tourney when Ohio Wesleyan took four all four games of its series against third-place Denison, while Wabash won three of four contests. The tiebreaker means OWU will play host to Kenyon College in the other side of the NCAC bracket.
For Stevens and his team, that's secondary.
"It would have been nice to host, but our first goal was to make the tournament," Stevens said. "We have been close before but have been unable to win that key game to earn a spot. This year we took care of business."
A 16-7 win at Wittenberg Saturday secured that berth for Wabash. The Little Giants finished conference play Sunday with two wins over Earlham for an 11-5 league mark. Wednesday's split of a pair of games at DePauw gives Wabash a 22-17 record heading into Saturday's tilt against the Fighting Scots.
The tournament experience factor definitely sits with Wooster. The Scots have participated in every NCAC baseball tourney since the league was founded. Wooster has won more conference titles — 11 — than any other team. The Scots' last championship came in 2006.
Wooster head coach Tim Pettorini has won more than 900 career games, only the eighth coach in Division III baseball history to reach that plateau. His teams have won 30 or more games 16 consecutive seasons, including a 31-7 mark this year.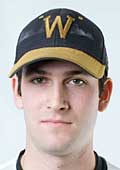 The Scots lead the conference in team batting (.353) and pitching (4.22 ERA). Senior centerfielder Sean Karpen's 70 hits lead all NCAC players. The 2008 NCAC Player of the Year also tops the NCAC charts in runs scored (56) and is second in the conference in batting average (.452). Karpen (right) also has more than 200 hits in his four years at Wooster. First baseman Matt Groezinger has hit eight home runs, the highest total among NCAC players. The junior is also second on the team in hitting, entering the weekend with a .410 batting average with 55 hits while leading the squad with 55 RBI.
Sophomore Justin McDowell's 2.50 ERA is the best among all conference pitchers. The righthander is 7-2 in 15 appearances with 13 walks versus 50 strikeouts. Senior co-captain Mark Miller is 8-1 with a 2.86 ERA. The righty is a two-time All-NCAC pitcher and should earn those honors again this season with just 12 walks over 50 innings to go with 49 strikeouts.
Wabash enters the game with some offensive firepower of its own. The Little Giants are fourth in the NCAC in batting with a .317 average and third in pitching with a 5.51 ERA. Stevens' team enters the weekend as the top fielding team in the league with a .961 percentage, committing 51 errors in 852 total chances.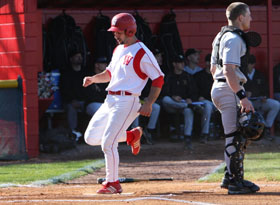 Seniors Matt Dodaro and Jake Thomas have been rewriting the Wabash record books all season. Thomas leads the Little Giants with a single-season record-setting 62 hits. His 33 RBI place him among the top-ten in the conference. The left-handed hitting outfielder is hitting .434 through 39 games with 13 doubles, a triple, and 3 home runs. Dodaro owns nearly every career record in the Wabash record book, including home runs (24), RBI (114), and doubles (42). His 184 career hits are second only to Thomas' 192. Dodaro has 42 hits and 24 RBI this season, along with a team-high six home runs as the starting shortstop for Wabash.
The team's success has been more than just a two-man show. Freshman Brian Lares set a Wabash record for hits by a first-year player with 48 heading into his first conference tournament. Sophomore third baseman David Seibel is hitting .339 with 18 RBI, including a two-run single in the Little Giants' victory over DePauw. Catcher PJ Tyson has started 31 games this season, producing 33 hits and 18 RBI.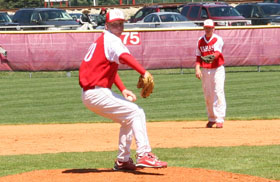 Senior pitchers Andy Weeks and Mike Korfhagen are the likely choices to start Saturday's two games. Weeks, a lefthander, is 2-2 with a team-best 3.93 earned run average. He has three complete games in nine starts with 32 walks and 42 strikeouts. Korfhagen has earned the win in each of his last four appearances for a 4-3 record with a 5.59 ERA. He has allowed 58 hits in 48 innings with 28 walks and 30 K's.
Despite the differences in experience, the Little Giants have faired well in recent games against the Scots. Two seasons ago Wabash traveled to Wooster to play the Scots for the first time in four seasons. After losing 8-0 and 6-0 in two Saturday games, the Little Giants earned a 3-2 win to hand Wooster its first loss of the 2007 season while knocking the team out of the number-one spot in the rankings.
First pitch Saturday is set for noon at Art Murray Field. Admission is free of charge.
Photos - (top left) Shortstop Matt Dodaro at the plate in the Little Giants' last trip to Wooster in 2007.
(Middle right) - Wooster's top hitter and 2008 NCAC Player of the Year Sean Karpen.
(Bottom right) - Jake Thomas' 62 hits leads the Wabash offense heading into the weekend series.
(Bottom left) - Senior Andy Weeks is expected to start game one for the Little Giants. The lefthander is 2-2 this season.