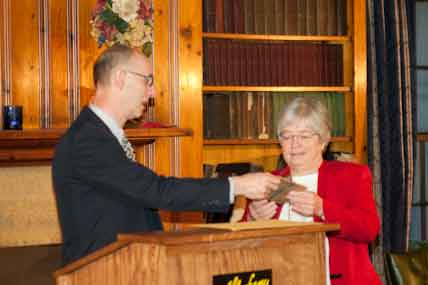 On April 24, 2009, the Western Pennsylvania Association of Wabash Men honored Professor Melissa Butler as their Person of the Year for her distinguished service to Wabash. The event took place at the historic Harvard-Yale-Princeton Club in downtown Pittsburgh.

The Western PA group cited Professor Butler's many years of service to the college and her students while listing a long series of firsts. Among those were her selection as the first tenure track female professor and first female to be granted tenure in the history of the college. She has also served as a faculty leader and is a recipient of the McLain-McTurnan-Arnold award as an outstanding teacher.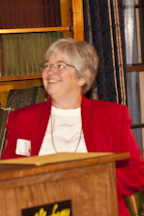 Melissa, in telling her story of her trip to Wabash, explained to the group that her move to Wabash resulted in part from her introduction to Wabash by several graduate school classmates, including Larry Kuremski '70, who was in attendance at the dinner. She also mentioned her acquaintance with Wabash legendary Political Science professor George Lipske. In summary, she stated a big part of her move was this "old boys network"!
Bob Smith '66 presented Professor Butler with a DVD containing some of the unique history of Pittsburgh and Lyndall Huggler '83, the association president, served as the evening's emcee.
For more photos, click here.