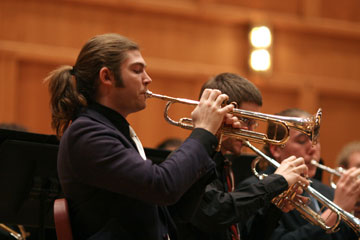 Jay Brouwer, a Wabash College senior music major, will give a trumpet recital at 4 p.m. Saturday, April 25, in Salter Concert Hall in the Fine Arts.
Brouwer will perform a number of pieces that fit together as a story of his Wabash music career.  The concert will include a Haydn concerto, a trumpet duet, a Jazz quintet number by Elvis Costello, a sung duet excerpted from a Broadway musical, and the debut of an original electronically-altered trumpet concerto composed by the performer.
The program is free and open to the public.