When the Mike Bachner Nature Reserve on the banks of Sugar Creek is dedicated this Saturday at 10 a.m., those gathered will be remembering a man who once called the stream is "my own little slice of wilderness."

Mike Bachner '70 came from Ohio to Crawfordsville to attend Wabash College in 1966, but it was Sugar Creek that drew him here. His second visit to campus as a high school senior included a canoe trip.

"That did it," Mike said. "I was hooked."

As manager of the Wabash College bookstore for 35 years and longtime member of the Friends of Sugar Creek, Mike led recycling efforts on campus and supplied the community with books by nature writers and local naturalists. He took students paddling down his favorite waterway and could tell a story about practically every bend and ripple between Crawfordsville and Deer's Mill.

Two of those stories were recorded a few years ago.

The first recording tells the story Mike called "Shakespeare on Sugar Creek," a story he first heard from the late Ginny Hays H'98, in which then-Wabash President Thad Seymour exchanged shouted quotes from the Bard through darkness over the creek with a man who still remains a mystery. Listen here.

The second recounts the day Mike and his wife, Pat Galloway, guided author and naturalist Terry Tempest Williams through Shades State Park to the creek. Listen here. Afterward, the author wrote, "Wildness resides in the heart of America."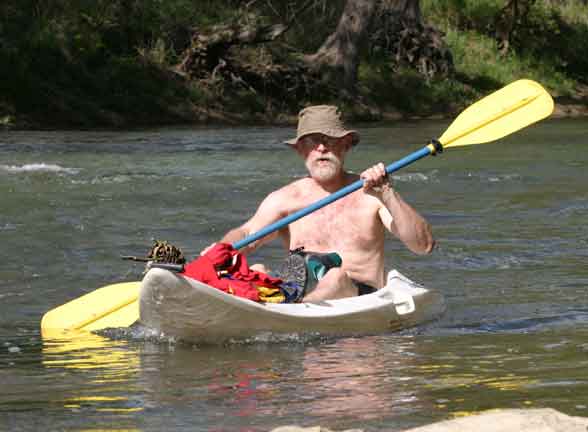 The last several years of his life, Mike would get out on the creek once or twice a week. He wrote: .

"I love to travel up and down my little wilderness. Travel writer Paul Theroux quotes an ancient Phoenician proverb that suits me: 'Every day on the water is a day not deducted from your life.'

"Often I put in at a bridge and paddle up stream. It's my work out. Going up you really learn to read the river. The eddies behind the rocks become a ladder if you see it.
"When I need to relax, I close my eyes and work my mind up a favorite section of the creek."

The Bachner Nature Preserve, a 41-acre tract land along Sugar Creek, is a joint effort of the Friends of Sugar Creek, NICHES Land Trust, The Nature Conservancy, Pheasants Forever and the Indiana Department of Natural Resources. Nearly half mile of Sugar Creek shoreline will be accessible from the Preserve.

The public is invited to the dedication at 10 a.m. on Saturday, April 25.
Directions to the site—West from Crawfordsville on S.R. 32 to Camp Rotary Rd. (325 W). One-half mile to CR 250S and turn right. One one-fourth mile west on 250S, the road makes a right turn at Sugar Creek. The Bachner Nature Preserve will be on the right side of the road to the bridge over Offield Creek.