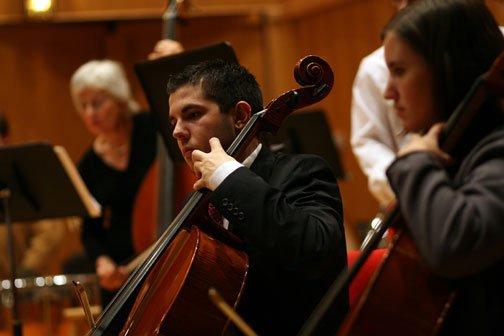 The Wabash College Chamber Orchestra will present a spring concert at 7 p.m., Sunday, April 26, in Salter Hall in the Fine Arts Center.
The program will consist of Dvorak's Slavonic Dances No. 6, 7, and 8; the Vivaldi Concerto for 2 Cellos in G Major; and Mendelssohn's "Italian" Symphony. Soloists for the Vivaldi piece will be Wabash cello instructor, Kirsten Landowne, and Biljana Bojovic. Landowne will be moving to Oregon during the summer and so this will be her final performance at Wabash.
Under the direction of Alfred Abel, the orchestra has performed works by a wide variety of composers from the 16th to the 20th century including not only great masters like Bach, Bartok, Stravinsky, Beethoven, Brahms, Ravel, Vivaldi, Haydn, Handel, and Mozart but also composers who are less frequently performed by today's orchestras, including very early composers such as Rameau, Mouret, Purcell, Byrd, and Jenkins. Joining Abel during the Sunday performance will be his wife, Colette, one of the region's most accomplished violists, their son, Benjamin, in the violin section, and their daughter, Clara, playing cello.
The concert is free and open to the public.