There are nearly 30 high school seniors on campus this weekend hoping to be one of the Lilly Scholars selected for a four-year full tuition and room and board scholarship valued at more than $140,000.
It's the 34th year for the Lilly program which this year has drawn students from all over Indiana, as well as California, Illinois, Mississippi, Wisconsin, Texas, Missouri, and Kansas.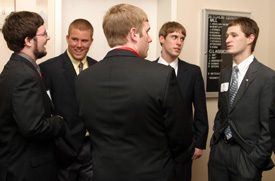 The young men arrived Thursday evening and will spend most of today in candidate interviews with panels of Wabash educators and alumni.
To compete for a Lilly Award, a student must meet at least one of the following basic criteria:
• a GPA of 3.5 (4.0 scale)
• rank within the top 20 percent of your senior class
• an SAT score of at least 1720, or an ACT composite of at least 25
These qualifications determine minimum academic eligibility only. Beyond these, we look at your individual accomplishments and abilities — achievements which may be even more important than your grades or test scores. We carefully consider all outstanding achievements, both academic and extracurricular, and we weigh one significant demonstration of leadership more heavily than casual participation in many activities. Especially impressive are young men who have shown particular initiative, worked independently or innovatively, or made a vital contribution to their school or community.
This year's Lilly candidates are: Dan Allen, Roncalli High School, Indianapolis; Austin Broadwater, Wheeler High School, Valparaiso; Michael Carper, Perry Meridian High School, Indianapolis; Chris Coates, Ernest Righetti High School, Santa Maria, CA; Michael Demeter, Crawfordsville High School, Crawfordsville; Edward Evans, Harrison Central High School, Gulfport, MS; Adam Fein, Naperville Central High School, Naperville, IL; Ryan Fier, Columbus North High School, Columbus, IN; Riley Floyd, Noblesville High School, Noblesville, IN; Andy Fuesler, Borrego Springs High School, Borrego Springs, CA; Michael Grassmyer, Salem High School, Salem, IN; Stephen Guetig, Fishers High School, Fishers, IN; Brantley Gunn, Home Schooled, Brandon, MS; Stevie Hightshue, Lawrence North High School, Indianapolis, IN; Matt Knox, Franklin Central High School, Indianapolis, IN; Evan Lane, McCutcheon High School, Clarks Hills, IN; Ian Leonard, Bloomington North High School, Bloomington, IN; Paul Lewellyn, Evansville Day School, Boonville, IN; Wyatt Lewis, Triton Central High School, Indianapolis, IN; Jim Martin, Burlington High School, Burlington, WI; Adam Morris, Anderson High School, Anderson, IN; Matthew Paul, Bloomington North High School, Bloomington, IN; Riley Planalp, Greenwood Community High School, Greenwood, IN; Philip Robin, Home Schooled, Hazelwood, MO; Rayyan Sami, Canterbury School, Fort Wayne, IN; Jake Schild, Lawrence Central High School, Indianapolis, IN; Thomas Schmidt, Nolan Catholic High School, Euless, TX; Liam Smith, Bishop Seabury Academy, Lawrence, KS; Gabe Watson, Columbus North High School, Columbus, IN; and Chris Wright, Brebeuf Jesuit Preparatory School, Indianapolis, IN.