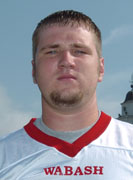 Crawfordsville looked within its own staff to find a new head football coach. Sean Gerold, who has been an assistant with the Athenians for the last four seasons, was announced as the Athenian head coach during Thursday's Crawfordsville School Corporation Board Meeting.
Gerold (right), a 2001 Crawfordsville graduate and 2005 graduate of Wabash College, helped with Crawfordsville's defensive line his first year as an assistant then helped with the offensive line the last three seasons.
"He has just added more responsibilities each year he has been here," Crawfordsville Athletics Director Bryce Barton said. "I think of him as a players' coach. When I told the players Tuesday morning that Sean was going to be the head coach pending board approval, they were very excited to play for him."
With Gerold taking over the Athenians, all three Montgomery County football coaches are Wabash College graduates. Southmont coach Desson Hannum graduated from Wabash in 2002, while North Montgomery head coach Charley German is a 1970 graduate.
Gerold teaches social studies at the high school. Because Crawfordsville doesn't have any teaching openings, Barton was unable to open up the position to people outside of the corporation.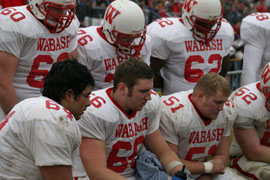 "This is awesome, it's exactly what I wanted to do," Gerold said. "I'm just excited to get started. The kids have known for the past couple of days and have been excited. The kids are going to work hard, but we are going to also help them become leaders both in the school and the community. Through football, we are going to teach them how to be leaders."
Gerold takes over for another Wabash College alumnus, Rex Ryker '97. Ryker, in six years at the helm, led the Athenians to a 28-36 overall record. The Athenians finished last season 4-6 and lost five of their last six games, including a 14-10 decision to West Vigo in the opening round of sectionals. Ryker was named the new assistant principal at Tuttle Middle School during Thursday's school board meeting.
Gerold helped with Crawfordsville's off-season work since Ryker resigned in early January. Along with Gerold coming in as the head coach, he said he also brings in a good group of assistants.
"We have a great staff in place and they work hard," Gerold said. "The key is going to be for us to have fun and also work hard. Rex just told me to have fun with the job and don't let it get me down too much."
The Athenians have had two winning seasons in the last four years, going 7-4 in 2005 and 2007. Crawfordsville has won a sectional game in four of the last six seasons. The Athenians last sectional win came in 2007 when they defeated West Vigo 36-0. The Athenians return tailback Craig Fairley next season, who rushed for 1,577 and 18 touchdowns last fall.
"Craig is just an unbelievable athlete," Gerold said. "I'm excited to have him next year, but Craig would not be able to do what he does without the offensive line. And I'm kind of partial to those guys since that is the group I've coached the last couple of years. And we have four of five offensive linemen returning. For us to be successful, it starts with the line of scrimmage."
Photo (bottom left) - Sean Gerold (number 66) and the rest of the Wabash offensive line take a break after an offensive series by the Little Giants. Gerold was a two-year letterwinner in football at Wabash and was part of the Little Giants' first North Coast Athletic Conference championship team in 2002.