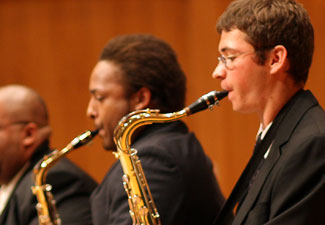 The Wabash College Jazz Band and Jazz Combo will present a spring concert at 8 p.m., Saturday, April 18, in Salter Concert Hall in the Fine Arts Center.
Both groups are under the direction of Steve Robinett. 
The 13-piece Jazz Band will be performing Ow by Dizzy Gillespie; Stolen Moments by Oliver Nelson; All Blues by Miles Davis; Now's The Time by Charlie Parker; Take Five by Paul Desmond; 'Round Midnight by Thelonious Monk; Moanin' by Bobby Timmons; and Saint Thomas by Sonny Rollins.
The 6-member Jazz Combo will perform Cool School by Steve Robinett; Little Sunflower by Freddie Hubbard; and Straight No Chaser by Thelonious Monk.
Admission to the concert is free. The public is cordially invited.