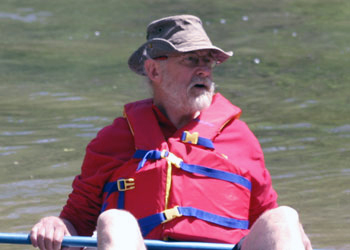 This event deserves a broad mark on your calendar and a mental reminder of "Don't Forget."
On April 25 and 26, the Bachner Nature Preserve, a 41 acre tract of Sugar Creek bordering land will be dedicated. In conjunction with the national celebration of Earth Day, the Friends of Sugar Creek, partnering with The Nature Conservancy, NICHES Land Trust, Pheasants Forever and the Indiana Department of Natural Resources, the dedication will include a new nature preserve and a public access for canoes and similar watercraft.
The dedication will be at 10 a.m. April 25. Parking at the site will depend on weather and soil moisture. Anyone parking on the county road should allow ample room for local traffic to pass.
The Bachner Nature Preserve is named in memory of Michael Bachner who is best remembered as the longtime Wabash College bookstore manager and an impassioned environmentalist.
Bachner was the pioneering force at Wabash to get the college community to think about recycling. He lead educational kayak trips down Sugar Creek, exposing students to the power and beauty of nature as well as making the students aware of local environmental concerns. In his role as Wabash Bookstore manager, he always supplied the community with a source of books by local naturalists, nature writers and reference books. Following the dedication event, volunteers will be invited to lend their backs and arms to plant 4,500 native tree seedlings. Over half of the 41 acre site will be planted with native tree seedlings and native prairie grasses. The tree planting will continue through Saturday afternoon and will be completed on Sunday if necessary. The prairie grass planting will be accomplished by a Pheasants Forever Seed Drill.
While the 41 acre site will serve many purposes, it's main use may be as a needed public canoe launch site. Nearly half mile of Sugar Creek shoreline will be accessible from the Bachner Nature Preserve.
Directions to the site — West from Crawfordsville on S.R. 32 to Camp Rotary Rd. (325 W). One-half mile to CR 250S and turn right. One one-fourth mile west on 250S, the road makes a right turn at Sugar Creek. The Bachner Nature Preserve will be on the right side of the road to the bridge over Offield Creek.