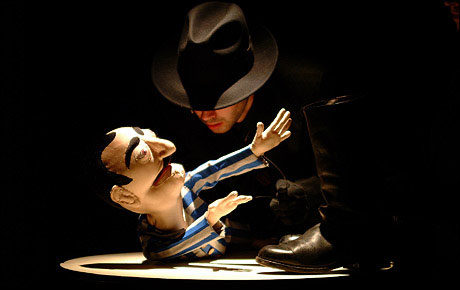 Wabash College's Visiting Artists Series will present its final presentation, Fabrik: The Legend of M. Rabinowitz, at 8 p.m., Friday, April 3, in Ball Theater in the Fine Arts Center. (The production has a mature theme)
Fabrik uses hand-and-rod puppets, masks and original music created and performed by New York City's Wakka Wakka Productions to tell the story of Moritz Rabinowitz, a Polish Jew who immigrated to Norway at the turn of the century in order to escape pogroms and persecution. Fabrik chronicles Rabinowitz's life in Norway in the 1930's and 40's, from his rise as an entrepreneur to his private life as a family man and his courageous moments as an outspoken denouncer of anti-Semitism, Hitler and the Nazi's, ending with his incarceration in Sachsenhausen concentration camp.
Inspired by Nordic and Yiddish folktales, Fabrik: The Legend of M. Rabinowitz pushes the boundaries of theatrical expression to explore one man's search for home – and the ways in which individual choices leave an indelible impression on history. The New York Times says, " … consistently startling … [it] will haunt you." 
Seating for Visiting Artists Series events will be by general admission, though free tickets are required.
Contact the Fine Arts Center Box Office by email at boxoffice@wabash.edu; or phone: 765-361-6411. Box Office hours are Monday through Friday, 8:30 a.m. to 12 noon and 1:30 to 4 p.m. The box office will open 90 minutes before curtain time for Visiting Artists events. Tickets not claimed at the Box Office 10 minutes prior to curtain will be released to the general public.