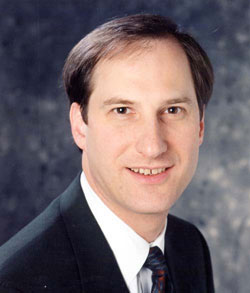 One of America's leading authorities on world finances, Charles Calomiris, will present the 2009 Benjamin A. Rogge Memorial Lecture at Wabash College. Calomiris' lecture, "The Subprime Turmoil: What's Old, What's New, and What's Next," will be presented at 8 p.m. Wednesday, April 1, in Baxter Hall, room 101.
In addition to his evening lecture, Calomiris will give a lunchtime presentation on "Financial Transition in China" at 12:15 p.m. in Baxter Hall, room 101.
Calomiris is the Henry Kaufman Professor of Financial Institutions at the Columbia University Graduate School of Business and a professor at Columbia's School of International and Public Affairs. He is a member of the Shadow Financial Regulatory Committee and the Financial Economists Roundtable, and a Research Associate of the National Bureau of Economic Research. Calomiris was a senior fellow at the Council on Foreign Relations, is a member of the Task Force on Property Rights at the Hoover Institution, and co-directs the project on Financial Deregulation at the American Enterprise Institute. He is chairman of the Board of Greater Atlantic Financial Corporation, a publicly traded bank based in the Washington, DC metropolitan area.
Calomiris served on the International Financial Institution Advisory Commission, a Congressional commission to advise the U.S. government on the reform of the IMF, the World Bank, the regional development banks, and the WTO. His research spans several areas, including banking, corporate finance, financial history, and monetary economics.
He received a B.A. in economics from Yale University in 1979 and a Ph.D. in economics from Stanford University in 1985.
His recent books include China's Financial Transition at a Crossroads, Sustaining India's Growth Miracle, A Globalist Manifesto for Public Policy, Emerging Financial Markets (with David Beim), and U.S. Bank Deregulation in Historical Perspective. He has also published numerous journal articles and chapters in scholarly volumes.
Both talks are free and open to the public.