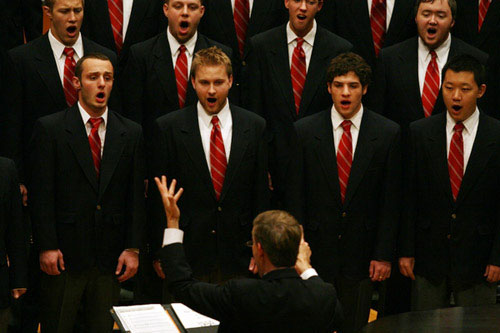 The Wabash College Music Department will offer its annual Fine Arts and Honor Scholarship Weekend Concert at 8 p.m., Friday, March 20, in Salter Hall in the Fine Arts Center. In addition, the Wabash College Glee Club will present its Campus Concert for the Wabash and Crawfordsville communities Sunday afternoon at 4 p.m. [note time change], March 22, in the Salter Concert Hall of the Fine Arts Center at Wabash College.
The Friday evening concert will feature four Music Department ensembles: Wamidan (world music ensemble), Brass Ensemble, Jazz Band, and Glee Club.
Wamidan will be performing, Siliim, a folk song that is often performed using the Luo dialect by both the Alur and Acholi peoples of northern Uganda and Ennyana, a traditional folk song of the Baganda (people of Uganda). The Brass Ensemble will perform Allegro and Air from King Arthur by Henry Purcell and Washington Post by John Philip Sousa. The Jazz Band will perform 'Round Midnight by Thelonious Monk and Saint Thomas by Sonny Rollins. It will feature John Hill, a guest performer on vibraphone and drums. Dr. Hill is a former director of the Wabash College Jazz Band and currently on the music faculty at Murray State University in Kentucky. The Glee Club will perform Old Wabash, Ave Maria by Tomas Luis de Victoria, Homeward Bound by Marta Keene, Can't Help Falling in Love by Weiss, Peretti, and Creatore, and Good Old A Cappella by Sharon and Raugh.
In addition, a woodwind duet of Wabash College junior, Matthew Routh, clarinet, and senior, Thomas Pizarek, bassoon, will perform Gavotte I from English Suite III by J.S. Bach. 
The 43-member Glee Club will open Sunday's program with three sacred Renaissance motets: Adoramus te, Ave Maria, and Lord, for thy Tender Mercy's Sake. The group will continue with arrangements of several American songs, including Hark, I Hear the Harps Eternal and Shenandoah. The second half of the concert will feature numbers selected from American popular music culture, including Can't Help Falling in Love, made popular by Elvis Presley, and Something, composed by George Harrison of the Beatles. The T-Tones, an 11-member Glee Club ensemble, will present several selections, including the Turtle's 1967 chart-topper, Happy Together.

The audience will be invited to join their voices with the Glee Club on Wabash College's favorite songs, Old Wabash and the Alma Mater. As an added bonus, the concert will feature photo highlights from this year's concert tour. The Glee Club is under the direction of Dr. Richard Bowen and is accompanied by Ms Cheryl Everett.
Both concerts are free and open to the public.