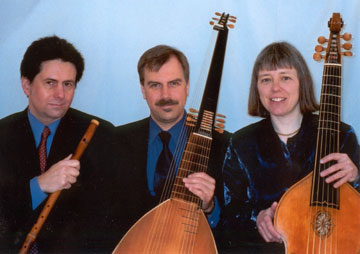 Wabash College's Visiting Artists Series will present Ensemble Chaconne at 8 p.m., Wednesday, March 25, in Salter Hall in the Fine Arts Center.
Known for its dramatic period-instrument concerts of Renaissance and Baroque music, Ensemble Chaconne will be joined by mezzo-soprano Pamela Dellal for this program, Measure for Measure: The Music of Shakespeare's Plays. The concert provides a rare view of the music that Shakespeare's audiences would have heard, written by composers of his day. Among the many selections are songs from As You Like It, Twelfth Night, The Winter's Tale, and Macbeth (in which Dellal portrays three witches in one song!).
The Portland Press Herald says this about the ensemble, "The Ensemble Chaconne is known not only for meticulous musicology, but also for its ability to bring Renaissance and Baroque music to life. Each player was given an opportunity to show off his or her virtuosity. The entire evening was characterized by balance and charm … "
Seating for Visiting Artists Series events will be by general admission, though free tickets are required.
Contact the Fine Arts Center Box Office by email at boxoffice@wabash.edu; or phone: 765-361-6411. Box Office hours are Monday through Friday, 8:30 a.m. to 12 noon and 1:30 to 4 p.m. The box office will open 90 minutes before curtain time for Visiting Artists events. Tickets not claimed at the Box Office 10 minutes prior to curtain will be released to the general public.