Wabash College invites you to hear Robert Hariman and John Louis Lucaites give the 2009 Brigance Forum Lecture at 8 p.m. Tuesday, March 24, in room 104 in Hays Hall. The title of their talk is "Boots and Hands: Photojournalism and Democratic Public Culture."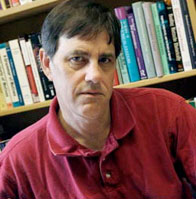 Hariman is in the department of communication studies at Northwestern University and Lucaites is in the department of communication and culture at Indiana University. They are the co-authors of No Caption Needed: Iconic Photographs, Public Culture, and Liberal Democracy. It was recently recognized with The Diamond Anniversary Book Award and the James A. Winans-Herbert A. Wichelns Distinguished Scholarship in Rhetoric and Public Address award. They also administer the blog No Caption Needed.
The Brigance Forum is an annual public lecture or debate in memory of the late William Norwood Brigance, teacher, scholar and leader in the Speech Association of America. In his 38 years at Wabash College, "Briggie" taught generations of Wabash students how to be more effective when they spoke and, through his textbooks, he taught thousands more in American high schools and colleges. As editor of History and Criticism of American Public Address and as editor of the Quarterly Journal of Speech, he gave direction to the scholarship of the field. As president of the Speech Association of America, he guided the profession through the expansion of the postwar years. The Brigance family, friends, former students whom he taught, and those who continued the tradition of speech at Wabash after him, have, through their contributions, endowed this program as an ongoing memorial to William Norwood Brigance.
The talk is free and open to the public.
Photos: Upper left: Robert Hariman; Lower right: John Louis Lucaites