John P. Stout '08 passed away Sunday, March 15, at St. Vincent Hospital in Frankfort. Stout suffered injuries in a car accident Feb. 23 near Frankfort.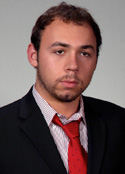 Stout was a member of Lambda Chi Alpha Fraternity. His father Tom is a 1969 Wabash graduate and practices internal medicine at Frankfort. John's brother, Mark '04, works for John Deere Landscapes at Indianapolis.
Visitation will be 3-8 p.m. Wednesday at Goodwin Funeral Home in Frankfort. There will be a Rosary service at 2:30 p.m. A funeral mass will be held at 10:30 a.m. Thursday at St. Mary's Catholic Church in Frankfort.
John was born Jan. 12, 1986, to Harry T. Stout III and Carol Stout at Indianapolis. He was a 2004 graduate of Frankfort High School.
John is survived by his father, one sister Anne R, of Cincinnati and one brother Mark of Indianapolis.
John was preceded in death by his mother, Carol, in 2002.
The family plans a memorial luncheon for friends and family at 12:30 p.m. Thursday following the Mass. That luncheon will be held at the Frankfort Country Club.
The family asks in lieu of flowers that donations be made to the Clinton County Boys and Girls Club or the Frankfort Golf and Community Tree memorial Fund.
Condolences may be sent to the family at: goodwinfuneralhome@sbcglobal.net