To those who know little about space flight, the terms 'Hoosier' and 'astronaut' would not, at face, seem synonymous. Why would Indiana, of all places, be the birthplace or place of major education for NASA giants like Gus Grissom, Neil Armstrong, or Ed White?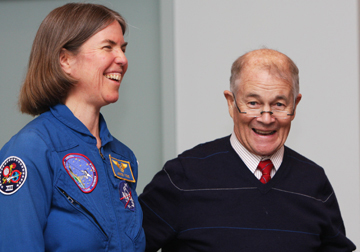 Last night Wabash and the greater Crawfordsville community heard from two more of the select few individuals who can call themselves Astronauts. Hoosier born and educated Drs. Janet Voss and Joe Allen told their stories about NASA and space travel. The event was a part of the Experience Indiana Speakers series, made possible by a grant from Lilly Endowment Inc.
See pictures from their visit here.
Sophomore John McGaughey introduced the two Hoosier Heroes. Last summer, McGaughey researched astronauts from Indiana's Lawrence County as a part of the Lilly Endowment-backed Present Indiana Program. In his research, he recognized the importance of the connection between Indiana and space.
"Having lived in several Indiana towns," McGaughey said. "I've seen many people desiring to join the space program. I don't know if it's a common American dream or something particular to Indiana, but I can say with certainty most Hoosiers have a soft spot for astronauts.
"It was a truly amazing experience to hear these two, especially Joe Allen, who is a native of Crawfordsville. To all those who are ignorant of Indiana's influence on the space program, do a little research, and you will be amazed at the astronaut heroes with Hoosier roots."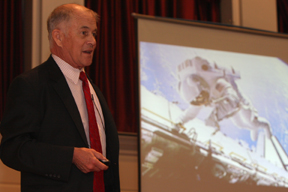 Childhood dreams are where Allen and Voss's careers in NASA both began. For Voss, it all began with a science fiction novel.
"I want to ask you guys a question," she asked at the start of her part of the talk." How many of you have read or have seen the movie version of A Wrinkle in Time? That was what originally got me interested in the space program. I checked out some books from the public library to go on vacation one summer and that was one of the books I just picked up off the shelf. That was in 1966."
A native of South Bend, Voss earned her bachelor's degree from Purdue University and her master's and Ph.D from MIT. After entering the Space Program in the early 1990s, Voss became a seasoned veteran of space travel, leaving Earth's gravity on five occasions in the span of a decade.
While she noted all of her missions were special, her last trek into space in 2000 perhaps yielded the most important research for the world. Her crew made a three dimensional map of the entire world. Over the course of 10 days, the Shuttle crew mapped more than 47 million square miles of the earth's surface.
"This map affects many parts of a person's daily life," Voss said, "from where they put cell towers to help airplanes fly into airports where they don't have good data, to providing alternative routes for truckers and all sorts of different daily uses."
During her trips into space, Voss was allowed by NASA to bring only two small discretionary items. Once, for a particularly long trip when she would have some significant downtime, she brought along an item that started her journey to the stars. Voss read one of science fiction great Issac Asimov's Foundation series books from the sunlight reflecting off of Earth's surface. 
For Allen, coming to Wabash also served as a homecoming. Allen is a native of Crawfordsville, and many of his high school classmates were in attendance.
"I grew up about five blocks away (from here) on Wabash Avenue," he said. "I went to all the Crawfordsville schools. I wouldn't be here if I didn't have a solid education. I will be forever grateful to my teachers here in Crawfordsville."
After Crawfordsville, Allen went to DePauw University for his bachelor's degree and Yale University where he earned his master's and PhD in physics. While he never took classes at Wabash, Allen admits that a Wabash connection was never far away.
"One of the first persons I met was the flight surgeon for the Apollo astronauts; his name is Keith Baird ('56)," Allen said, pointing to Baird in the crowd. "Keith is right there. Crawfordsville itself has a very strong influence in the space program. I would argue that Keith has a major line in the footnotes of history of the space program as a physician in the early years."
Allen's historical contributions to space travel are also worth noting. He was the third man in the world to make an untethered walk in space; he was not connected to the shuttle by any cord, propelled only by the propulsion system on his back. He was also an avid photographer, and one of his pictures appeared on the cover of Time magazine.
Audience members from all walks of life found Voss and Allen's talk to be very engaging. Physics major Rabin Paudel '10 found the experience to be particularly important.
"Hearing from NASA astronauts is an opportunity no one should miss since there are just over 300 astronauts," he said. "As a physicist, I think, NASA is also doing a great job in carrying out experiments in zero-gravity, those which are impossible to do on earth due to non-zero gravity."
While the audience was diverse, at least a portion of the talk was directed towards a special group who came with their parents. Children, not always a group that commonly comes to sees Wabash speakers, were spread out all over the audience listening to the stories of the two astronauts. Allen had one story that was especially tailored to that special group.  
"I first saw the ocean in 1942; I was five years old. We took a big family trip to Florida and I saw the Atlantic Ocean at a place called Cape Canaveral. Little did I think that 35 years later I would leave Cape Canaveral going straight up and out over the Atlantic Ocean in a spaceship. I wound up doing something that was not even invented when I was a student in Crawfordsville.
"I'd like to say to the young students in the crowd that you too may do something that has not yet been invented. You can do that if you stick with your education; it's a strange, strange world."