Holocaust survivor and acclaimed artist Samuel Bak visited Wabash College Monday, and opened his exhibition "The Art of the Question: The Paintings of Samuel Bak" at the Eric Dean Gallery in the College's Fine Arts Center to one of the largest crowds ever to attend a Wabash art opening.
See images from the opening here.
See images from the exhibition here.
At a small reception Sunday evening, friends welcomed Samuel Bak to campus. During the reception, Michael and Gigi Pucker donated Bak's painting Creation to Wabash in honor of their friend Steve Bowen '68, who is Chairman of the Wabash Board of Trustees. See photos from the reception here.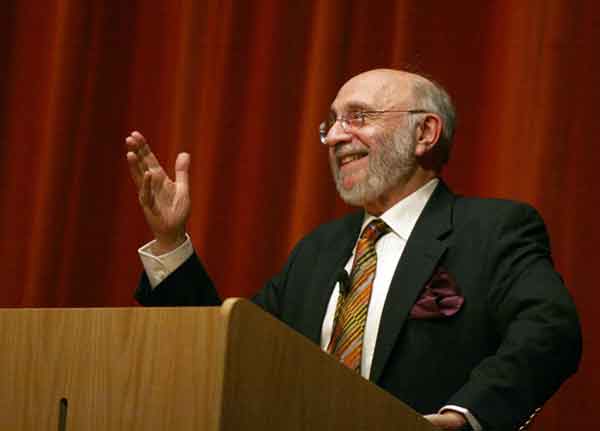 Described by social critic Amos Oz as "one of the great painters of the 20th century," Bak was born in 1933 in Vilna, Poland and was recognized from an early age as possessing extraordinary artistic talent. As Vilna came under German occupation in 1940, Bak and his family moved into the Vilna ghetto, and later to a labor camp, from which he was smuggled and given refuge in a monastery. At the end of the war, his mother and he were the only members of his family still alive.
Now 75, Bak has spent his life coming to terms visually with the destruction and dehumanization which make up his childhood memories. In THE ART OF THE QUESTION, his works ask how and why such unfathomable atrocities can be perpetrated and permitted, even today. Yet the result is a body of beautifully rendered work, and from the remains of annihilation and destruction emerge expressions of hope and rebirth.
Wabash Dean of the College Gary Phillips has studied and written books on Bak's work, and he will welcome the artist to Wabash classrooms to talk with students on Monday, March 2. A public reception and conversations with the artist begin Monday at 5 p.m. and continue through 7 p.m. in the Eric Dean Gallery at Wabash.
The Eric Dean Gallery is located on the south end of the Fine Arts Center. Gallery hours are Monday through Friday from 9 a.m. to 5 p.m. and on Saturday from 10 a.m. to 2 p.m.  The gallery is free and open to the public.
PLEASE NOTE: The gallery will be CLOSED during Wabash's Spring Break, March 9-13, and will re-open March 16.
In photo: Samuel Bak takes questions from the audience in the College's Ball Theater during the opening reception of "The Art of the Question: The Paintings of Samuel Bak."