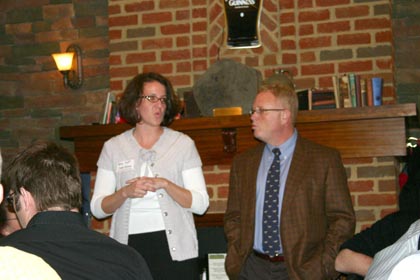 Scott Crawford and Betsy Knott, Director and Assistant Director of the Schroeder Career Center on campus were the featured guests at the Hamilton County quarterly luncheon held on February 12. Scott and Betsy updated the alumni in attendance on the activities of the career services office, including internship/externship programs and the Lilly Grant Business Leaders program. They noted several of the ways that alumni can get involved in their services including job search assistance if needed. If you would like to help our students in their career endeavors contact Scott or Betsy.
Beginning in April, the Hamilton County quarterly luncheons will be held on the second Tuesday of every April, July, October, and January and will continue to host someone from campus. Special thanks to Seamus Boyce '03 for the organization of the luncheons.
Click here for photos.