The ninth Celebration of Student Research, Scholarship, and Creative Work often has students looking at their own research and projects differently than before. With classes canceled for the afternoon, trustees, students, faculty, and staff enjoyed more than 75 projects and presentations in Detchon Hall.
See photo albums here, here, and here.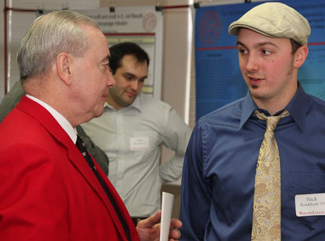 Art Major Nick Roudebush '09 is accustomed to talking about his art. But during the Celebration, he was focused on explaining two kilns he had built to be more eco-friendly than the traditional kilns which cause environmental concerns.
"Whenever people come over here I want to talk about my project and talk about my concept and my philosophy," he said. "But I have narrowed it down to talk about process and the implications of the process. It's been difficult not to talk about my art."
But it's also a learning process, Roudebush added. One of the two kilns was built from reclaimed firebricks he collected from Crawfordsville's old brick factory, Standard Brick. That project drew the eye of Wabash Trustee Peter Kennedy III '68 who visited with the Cicero, Indiana, senior.
"He made a connection to the glass business," Roudebush said. "And he built his house out of reclaimed bricks like I collected; his entire house is made out of them. I learned more than he did."
The Celebration seems to be as much about learning as it is process.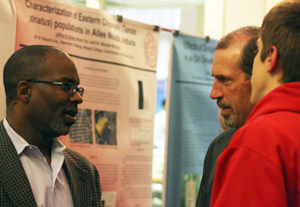 "I come away with new ideas and new thoughts from our students," said Daryl Johnson '82 and a member of the Board of Trustees. "And I learn about what's happening here at Wabash College. It takes me to a different level. Instead of just working every day and learning about things at my home and about my own profession, I learn how these students are growing and taking their education to another level."
He added the projects are "amazing, and as a matter of fact scary" at the brilliance of some of the work.
The exciting work also builds enthusiasm in the students for things that matter. As they labor through the research they develop a passion for their topics.
Michal Opieczonek presented "El Coraz€n Del Estudiante (The Heart of the Student): My Great Experiences in San Cristobal, Chiapas, Mexico" He shared his experiences working with a non-profit organization helping educate 10-18 year olds.

"We often get caught up in the race for achievement and material things," the senior said. "We need to stop and appreciate the things we have." He encouraged the audience to "try to benefit the world using your advantages and talents."
That enthusiasm and excitement for the scholarship make the faculty proud, even those in their first year at Wabash.
First year Professor of Psychology Eric Olofson was surprised and pleased how well the event was attended. "It's nice to see the students are invested in each other's work," he said. "I thought there would only be student presenters here but I talked to a few students here just to see what others are doing. I'm impressed with the level of engagement of our students."
In photos: Upper right, Kennedy and Roudebush discuss reclaimed bricks. Center left, Johnson chats with Dr. Don Shelbourne '72 and his son Brian '12. Lower right, Michael Opieczonek