Wabash alumnus Kevin Chavous '78, joined by nearly a dozen political and education leaders, spoke at a rally for the Educational Equality Project on Martin Luther King, Jr. Day calling for an end to "the last civil rights struggle in America."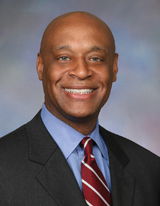 Chavous, who is an attorney in the Washington, D.C. law firm of Sonnenschein Nath & Rosenthal, is the chairman of Democrats for Education Reform, which sponsored the rally.
"It is time for our country to stand up for our children, Chavous said. "As great as we are, we still are failing our kids. Failing them miserably. When half of the children of color drop out of high school, we are failing our kids; when we offer fewer and fewer AP courses, we are failing our kids; when our world education rankings continue to slide, we are failing our kids; and when we remain committed to a one size fits all model of education service delivery, we are failing our kids. Yes, there are some very good schools in America that provide some children with an excellent education. But that is not good enough and we are still failing our kids."
In his work as an attorney, Chavous specializes in education, corporate diversity counseling, and public policy. The former three-term D.C. City Councilman is the author of Serving our Children — Charter Schools and the Reform of American Public Education.
Joining Chavous at the Education Equality Project rally were Joel Klein, Al Sharpton, New York Mayor Michael Bloomberg, D.C. Mayor Adrian Fenty, Newark Mayor Cory Booker, Philadelphia Mayor Michael Nutter, as well, as Senator John McCain, Dr. Michael Lomax, and Newt Gingrich.
"At this historic time, in this city of our nation's founders, on the day designated to honor Dr. Martin Luther King and his legacy, it is fitting that we all stand before you to challenge America," Chavous said in his remarks at the rally. "Although this challenge is made out of love and respect, it is a challenge nonetheless."
A leading national advocate for school choice, Mr. Chavous helped to shepherd the charter school movement into the District. Under his education committee chairmanship, charter schools grew from zero to more than forty schools and 17,000 students in six short years. That number represented twenty percent of the overall public school population in the District of Columbia, the highest percentage of charter schools in the country.
Chavous used the occasion of MLK, Jr. Day to remind the large, enthusiastic crowd at the rally of Dr. King's beliefs on education.
"In his 'Letter from Birmingham Jail,' Dr. King directly chastises white clergy for their unwillingness to confront the status quo on the issue of segregation and social justice," Chavous said. "Dr. King alludes to the interconnectedness of us all by saying that 'we are caught on an inescapable network of mutuality, tied in a single garment of destiny. Whatever affects one directly, affects all indirectly'. Indeed, I can never be what I ought to be until you are what you ought to be, and you can never be what you ought to be until I am what I ought to be. This is the inter-related structure of reality.
"Like King, we need to be honest and forthright about what ails us in education. If a child is failing in a school in southeast Washington, DC, it hurts the suburbanite living in Aurora, Colorado. And we all lose. Until each and every American child receives equal access to a high quality education, our destiny will never be fulfilled, our promise never reached. This is the last civil rights struggle in America and we need to employ the same sense of urgency and resolve that we did to end segregation during the time of King.
Chavous advocated a number of changes, including supporting teachers to the fullest extent possible, including raising teachers' salaries to attract the best and brightest minds to solve one of our society's greatest challenges — education reform.
"Our message is clear: change means change," Chavous said on the eve of the inauguration of President Barack Obama. "Continuing to do what we have done in education, in the same way, is unacceptable. On that score, the education cartel, those who insist on maintenance and continuation of the status quo, should take note. We are determined to fight you for meaningful change in our schools by any means necessary. Our kids can't wait.
"Let none of us rest until we do become the change we are looking for in education, with the ability to guarantee as a fundamental civil right that every child will receive a high quality education each time they walk through a schoolhouse door."