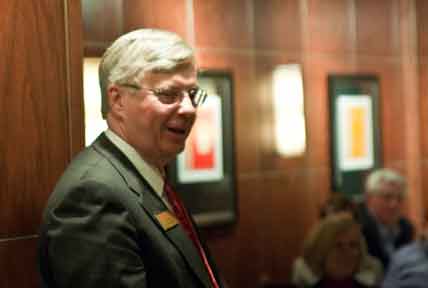 The Cincinnati Association of Wabash men welcomed prospective students and their families to their annual Admissions dinner on January 22, 2009.  The group also welcomed back Wabash President Pat White and his wife Chris. 
Mike Baker '00, the new regional association president, welcomed everyone and served as the evening's emcee. Mike Owens '02, the college's Admissions representative for the Cincinnati area, introduced the prospective students and their parents to the group.
After the classic ribs and chicken dinner, Mike Baker introduced President White who spent some time offering the prospective families insight into Wabash.  He also balanced that with an update to the assembled alumni on the latest at Wabash.  Of particular interest to all was the impact of the current financial challenges on Wabash - the college is not immune.
Many thanks to Bill Augspurger '64 who set up the dinner and made all the local arrangements. 
For photos of the evening, click here.
Photo:  President White speaks to the group.