The Malcolm X Institute of Black Studies at Wabash College invites you to participate in today's Martin Luther King, Jr. Day Celebration.
The events planned for the day includes:
• Martin Luther King, Jr. Celebration March began at 9:55 a.m. Everyone participating in the march should meet at the Chapel steps. See Photos here.
• Exhibit—"Black Crawfordsville: Then and Now" will be open from 9 a.m. to 5 p.m. in the Malcolm X Institute of Black Studies rotunda. The exhibit is a collaboration of items from the Wabash College Archives and various constituencies in the community including Bethel AME Church, the Carnegie Museum, the Crawfordsville Library, and Second Baptist Church, which focuses on the presence of Black people in the Crawfordsville area.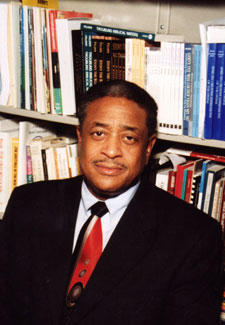 • A lecture by Dr. Cain Hope Felder at 7 p.m. in the College Chapel. Dr. Felder is professor of New Testament Language and Literature and editor of The Journal of Religious Thought at Howard University School of Divinity in Washington, DC. Currently he is serving as chair of the Ph.D. program and immediate past chair of the Doctor of Ministry program at the School of Divinity, he has been on Howard's faculty since 1981. Prior to coming to Howard, he taught as a member of the department of Biblical Studies (1978-1981) at Princeton Theological Seminary. The former pastor of Grace United Methodist Church in New York City (1975-1977), Dr. Felder is an ordained Methodist minister who has been affiliated with the United Methodist Church. He now serves as an Elder in the Second Episcopal District of the African Methodist Episcopal Church where he was appointed by Bishop Adam Jefferson Richardson as the Resident Biblical Scholar for the District.
All events are free and open to the public.