Trevor Fanning '00 doesn't seem controversial conducting a Roncalli High School choral group in a small room in the southside Indianapolis high school. He smiles, laughs, and cajoles the young people to embrace music as part of their everyday lives.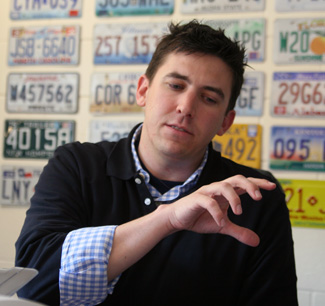 And there really isn't anything controversial about Fanning, except he had a key role in one of the more controversial moments in recent Wabash College history. Fanning, a Wabash rhetoric major, had the lead role in the 1996 production of Tony Kushner's gay-themed Angels In America. Wabash was the first college nationwide to perform a full-scale, main stage production of the award-winning play that has since been adapted as an Academy Award-winning motion picture.
"As someone who loves theatre, you can't have drama without drama, right," Fanning asked. "It was an interesting time. We thought there might be some demonstrations during the performance. There was news coverage and I was doing interviews. It was intense."
But his most vivid memory was the support the cast received director Jim Fisher and so many others, including then-President Andy Ford. "He came down and talked to us before opening night," Fanning said. "I can remember it like it was yesterday. He told us that when he gave his inauguration speech he asked people to be audacious. He said there was nothing more audacious than what we were about to do."
The play got rave reviews and sparked considerable discussion, Fanning said. The cast members even toyed with the idea of doing some sort of 10-year reunion in 2006 but too many were just too far away or too busy.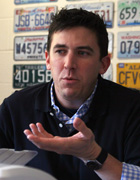 Fanning's work the Roncalli music groups brings him full circle from his roots in Connecticut. He attended a Jesuit, all-male high school in New Haven. He sang in choirs and took music lessons.
He spent his freshman year at Loyola University in New Orleans but didn't like it. His high school education was based in the liberal arts, and he wanted to get back to that type of learning environment. He re-discovered Wabash as a perfect fit.
"I didn't have to major in music to be involved in music. I didn't have to major in theatre to be involved in theatre. I was really interested in rhetoric and teaching. I fell in love with that idea. I fell in love with Indiana. I just always knew if there was a chance to come back here and teach I'd want to do it."
He bounced around a couple of years after graduation before taking a call from his old Connecticut high school about a teaching job. He returned and taught English and theology. He worked briefly teaching religion at a boarding school, but he was missing music. He learned of Roncalli's need for a choral director, landed the job, and has had a positive impact.
During his second year (2008-09) he increased male participation from 18 to 40. "There are guys who like to sing, but a lot of it has to do with schedules. You have to lead by example too. You have to get the kids to realize it's cool and you get to make good music too.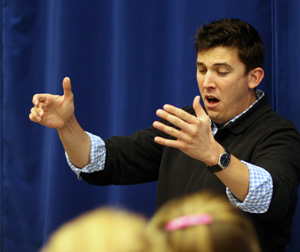 "We have a lot of fun. I don't apologize for the way I am in class. I'm zany. I'm kooky. At the same time, at the end of the day we can make good music. And this program is about them, not me. It's about their enjoyment. I want them to be proud of themselves and I want Roncalli to be proud of them."
He wants to diversify the choral program so it's not just a show choir, but also a serious choral group as well. He'd like to travel with the group. Fanning also admits he'd love to bring his male choir members to Wabash to sing with the Glee Club.
He hasn't given up performing himself either. He spent the summer of 2008 in a production of "Curious George" at the Indianapolis Children's museum. He has sung and acted in other groups and productions.
Having grown up in a private school setting, he's found Roncalli a perfect fit. "I start every class off with a prayer. It's a Catholic school and a school of faith. That sense of faith trickles down to everything we do. There is an ability to rely on your faith and for it to be a part of your work in using your gifts and talents."
See more photos and hear Fanning's Roncalli Choir sing by clicking here.