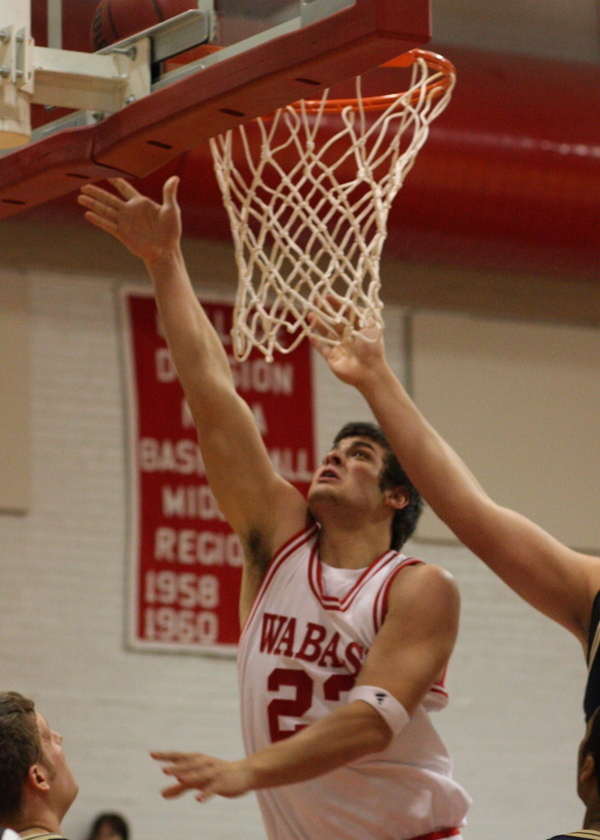 The Wabash College basketball team will have a new look in the 2008-09 season. Gone are familiar starters Gary Simkus, Andrew Zimmer, and Earl Rooks, but veteran coach Mac Petty welcomes back returning starters Wes Smith and Aaron Brock (right) — along with a good mix of experienced players and exciting newcomers.
The Little Giants open their season Friday it hosts the Little Giant Tipoff Tournament. Franklin College and DePauw University meet in the first game at 6:00 p.m. with the Little Giants meeting Wilmington College at 8:00 p.m.
The consolation game is at 1:00 p.m. Saturday afternoon with the championship game to follow.
Petty enters his 33rd season with the Little Giants after guiding Wabash to an 18-10 record and runner-up finish in the North Coast Athletic Conference tournament. Along the way, Wabash knocked off regular season champ Wooster in the tournament semi-final that was played in Wooster, Ohio.
Brock, a 6-6 forward from Bremen, Indiana, was a key performer down the stretch for the Little Giants, averaging 22.5 points in five late-season victories. He was honored for his play with a spot on the All-NCAC Tournament Team and received Honorable Mention All-NCAC honors. Brock ranked second on the team in blocked shots last year (33) and was third in rebounding (5.1).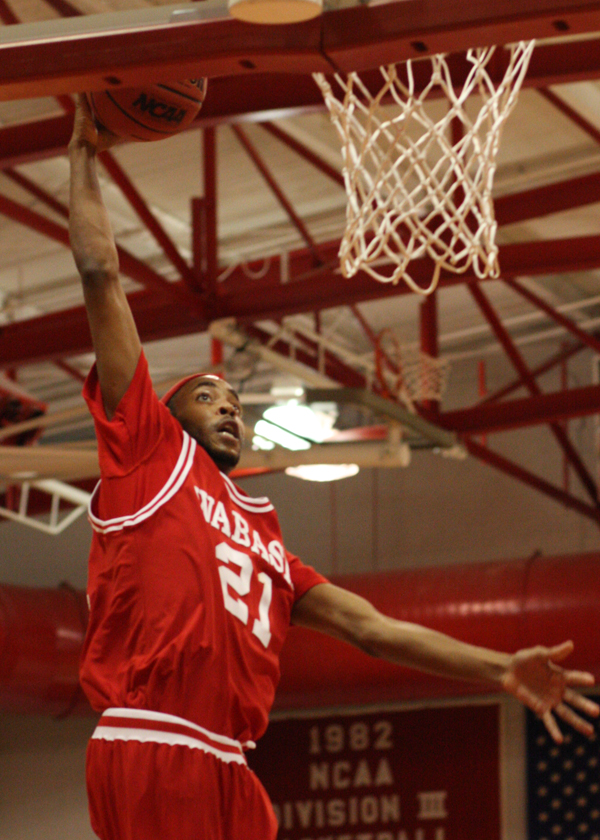 A 6-3 small forward, Smith (lower left) started all 28 games his rookie year and set the Wabash single season record for steals with 68. The Indianapolis Lawrence North graduate ranked fourth on the team while averaging 10.9 points, and was second on the team with an average of 6.0 rebounds per game.
Senior Brian Maloney (below right) was a backup to All-Region center Andrew Zimmer, and should move into the starting lineup this year. The 6-6, 230-pounder from Crown Point, averaged 3.5 points and 3.3 rebounds in 14 minutes per game a year ago.
Senior Mark Turpin, sophomore Ben Burkett, and freshmen Derek Bailey, Nick Curosh, Seth Bawel, and Caleb Weber will look to join Smith and Brock at forward. Turpin, a 6-4, 200-pounder out of Evansville Harrison, has appeared in six career games.
Curosh (6-6, 220) is coming off a successful senior season at George Rogers Clark High School in Whiting, Indiana, where he averaged a double-double as a senior. Bailey (6-4), an Honor Scholar, averaged 11 points-per-game and served as team captain for an excellent Bloomington South High School team.
Burkett, a 6-5, 215-pounder, averaged nine rebounds per game at nearby Southmont. Weber, another bulky 6-5, 235-pounder, was captain and all-conference at Western Boone High School.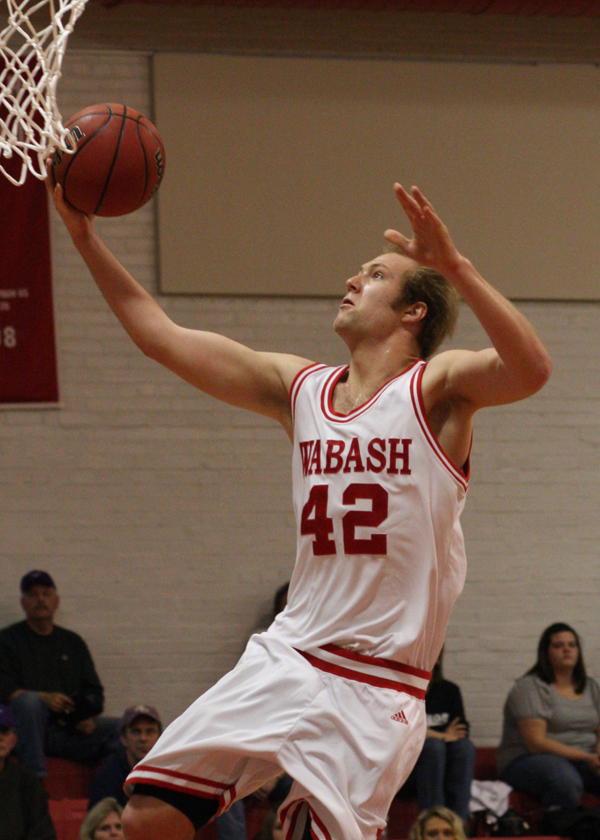 Chase Haltom will move into the starting lineup at one of the two guard positions. The 5-10 junior averaged 7.3 points per game and hit 36 percent of his 116 three-point shots a year ago.
Sophomore Andrew Gilman appears to have nailed down the other starting guard position. The 6-2 graduate of North Central High School in Farmersburg appeared in half of Wabash's games a year ago, but showed promise by hitting 40 percent of his long-range shots.
Sophomore Dominique Thomas will also see plenty of court time after appearing in 11 games a year ago. Thomas is a 6-1 guard from Moss Point, Mississippi. Kyle Schroering, a 6-4 guard, is back for his junior year.
Rookie guards hoping to find some playing time are AZ Zinnerman and Brian Shelbourne at the guard spot. Zinnerman is a 6-1 guard who served as team captain at Indianapolis Ben Davis High School, while Shelbourne is a 6-3 ball-handler from Cathedral High School in Indianapolis.
For a look at this year's roster, click here.
For a look at last year's results and stats, click here.