The Wabash College Art Department is pleased to announce its next exhibit. Visiting Assistant Professor of Art Kristen Wilkins will show "Time is Eternity" in the Eric Dean Gallery from October 27 through December 12, with a public reception 8-9:30 p.m. on Monday, October 27. A gallery talk by the artist is scheduled at 3 p.m. that afternoon.
This exhibition presents two bodies of work exploring themes of memory and loss, and relationships with family and place. They are visual narratives invoking empathetic remembrances. Rapt in the Nameless Reverie is a series of photographs possessing dreamlike qualities, snatching moments of memories fading in and out of focus. As in dreams, the images capture transitory glimpses of moments.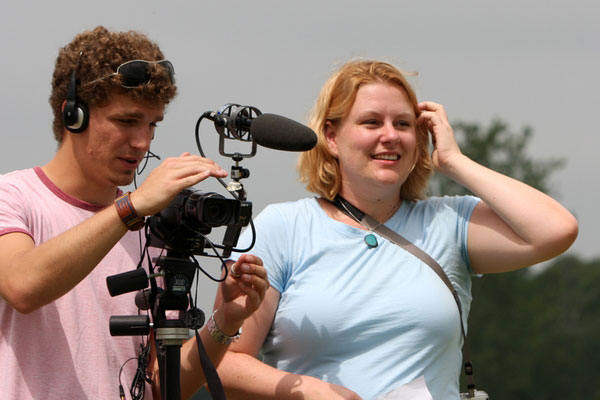 All Good Things Will Come to You Soon is a video installation inspired by the writings, and fictional characters of Indiana's authors Jessamyn West and Gene Stratton-Porter. In the vignettes, "… a rotating cast of characters acts out their individual, internal struggles to connect to the land and to others." The production is projected and viewed in the interior of a large constructed environment within the gallery—a structure reminiscent of archetypal buildings such as schoolhouses, farmhouses, and barns that dot the Hoosier landscape. The authors set their novels in the 19th century, as early settlers began to use and change the land.
Of her work Wilkins says, "These photographs hone in on domestic details and textures to facilitate my exploration of nostalgia and absence. Objects, light and shadow, and empty space are referents to absent people and past memories."
Wilkins spent her life in southern California before moving to Indiana in 2008. She studied art and biology at University of California at Santa Cruz, and received her MFA in creative photography at California State University at Fullerton. Wilkins work has been exhibited extensively.
The Eric Dean Gallery is located on the south end of the Fine Arts Center. Gallery hours are Monday through Friday from 9 a.m. to 5 p.m. and on Saturday from 10 a.m. to 2 p.m. The gallery is free and open to the public.