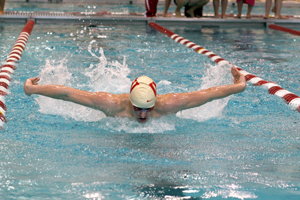 Former members of the Wabash swimming and diving team will gather once again for an alumni meet on Saturday, October 4 as part of the College's Homecoming activities. The meet is scheduled to begin at 10 a.m. with a 9:30 a.m. warm-up session.
Events will include the 50 butterfly, 50 backstroke, 50 breaststroke, 50 free, 100 free, and 100 individual medley. Current members of the Little Giant team will also participate in the activities, which will include a reception following the meet.
Former head coach and Wabash Athletics Hall of Fame member Gail Pebworth will serve as the honorary starter.
RSVP's or questions regarding the day's events can be sent to Ben Hewitt '05 at hewittba@gmail.com.