Wabash College has been named America's 12th best college by Forbes.com. The rankings include 569 undergraduate institutions.
The 12th spot in the first-ever Forbes ranking of America's Best Colleges puts Wabash ahead of not only all other Indiana institutions but also above all other "peer institutions" in the Midwest.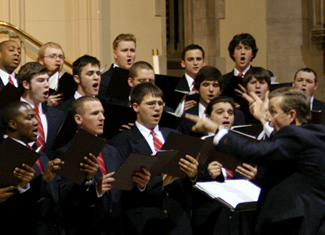 "Wabash College is proud of the mark our alumni make in the world, the excellence of student engagement with faculty, and the quality of teaching and learning on campus," Wabash President Patrick White said. "Any evaluation can only tell part of the story of the excellence of Wabash or any college, but we are pleased that our success has led Forbes to rank us among the top colleges in the country, a position in which those who know us best have always placed Wabash."
Forbes methodology included rankings from more than seven million student evaluations. They looked at how many of the schools' alumni, adjusted for the size of the school, are listed among notables in Who's Who in America. A large percentage of their ranking method included: debt level at graduation, percentage of students graduating in four years, number of students or faculty who have won nationally competitive awards like Rhodes Scholarships or Truman Scholarships.
Forbes compiled the list with Dr. Richard Vedder, an economist at Ohio University, and the Center for College Affordability and Productivity.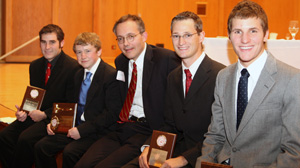 "It's an impressive fact they rank us 12th of all colleges and universities in the country," Dean of Admissions Steve Klein said. "There is so much hype about other schools who've earned their reputation based on sports teams, or their graduate school, or maybe a highly-established faculty that undergraduates may never meet or have in the classroom.
"These rankings get at the substance and value of an undergraduate education. It' says a lot when Wabash is coming in way ahead of so many institutions including many of the Ivy League Schools."
The story on the Forbes website wrote specifically about Wabash's high standing:
"Several relatively unknown schools do surprisingly well in our rankings. Wabash College, a tiny, all-male school located in Crawfordsville, Ind., ranks 12th on our list, and Centre College, a highly-regarded liberal arts school in Danville, Ky., ranks 13th. With an entering class of just 250 freshmen, Wabash benefits from both high student satisfaction with their courses and lots of graduates who received distinctions in their post collegiate careers."
Forbes talked to sophomore Gary James while compiling their data. "The best reason to choose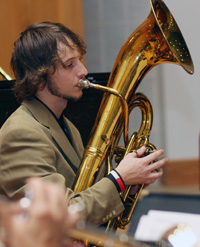 Wabash is the college's emphasis on the individual," James said. "If there is something that isn't available to me in the core curriculum, I have opportunities to expand on them in other ways through college. It's a hands-on approach that allows undergrads to do work that is normally reserved for graduate students."
Student opinion and rankings play a key role in the Forbes results. The Forbes ranking is backed up by Wabash's annual strong performance in The National Survey of Student Engagement.
Long-time Professor of History Stephen Morrillo saw a positive reflection from the Forbes' ranking.
"I think what this speaks to is the ability of Wabash professors to find synergy in their teaching and their research; that is they can be productive partly because what we produce is informed by classroom discussions and classroom work with our students, which of course helps in both directions of education in the classroom and faculty productivity," the Department Chairman and Rhodes Scholar said.
Wabash has traditionally done very well in such rankings but this is its best showing ever. Wabash was 52nd in the 2008 U.S. News and World Report rankings. The College was highly praised in the recent Princeton Review as one of The Best 368 Colleges.
In comparison, DePauw was ranked 47th, Notre Dame 77th, Earlham 94th, Hanover 132nd, Indiana University 214th, University of Evansville 252nd, Butler 333rd, Ball State 461st, and Purdue 487th.