Entrepreneurial Spirit: Michael Patterson '82
• April 9, 2008

Share:
WM asked 18 Wabash entrepreneurs:
What's the most important thing you know about being an entrepreneur?
What should Wabash be doing to instill this "entrepreneurial spirit?"
Rocket Man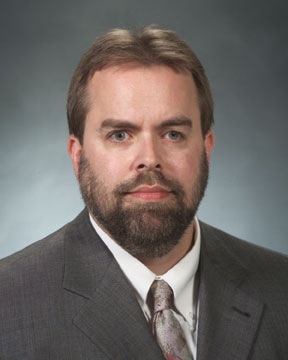 When NASA's Deep Space 1 probe left earth orbit in October 1998, later to fly by asteroids and the Comet Borrelly, it became the first spacecraft to rely on ion propulsion—a type of solar electric propulsion—for its main source of thrust for interplanetary travel.
"Until recently, ion technology had been considered too exotic," aerospace engineer and NASA team leader Michael Patterson told the media. "Opponents would say things like, 'It doesn't look like a rocket engine.'"
But Patterson and his team proved naysayers wrong, and the ion thruster exceeded expectations, performing a record 628 days in space before Deep Space 1 was guided into Borrelly and captured some of the best images ever taken of a comet.
Patterson continues to improve the ion engine, developing a high performance system for future NASA robotic science missions. He has received seven patents for thruster technology and is the recipient of numerous awards, including NASA's Exceptional Achievement Medal.
What's the most important thing you know about being an entrepreneur?
Be product oriented, not process oriented.
The parallel axiom is "Don't confuse Action with Accomplishment." Getting the job done, whatever that may be,
is the bottom line. In many cases this requires quick decision making and constantly balancing limited and competing resources, such as time, money, and quality.
The traits that I believe are inherently important for an entrepreneur to foster include:
Creativity—Difficult problems necessitate examining unconventional solutions. If not, the problem would already have been solved;
Vision—You have to be able to clearly see how to get from where you are to where you want to go, even when no one else can see the path;
Articulate—You need the capacity to communicate your vision/message to others and compel them to action.
What should Wabash be doing to instill this entrepreneurial spirit in our students?
I particularly appreciate my speech class with Professor O'Rourke, and I would encourage students to get as much public speaking experience as they can and consider a major or minor in rhetoric. I will always employ an average scientist/engineer with excellent rhetorical skills over an excellent scientist/engineer without these skills.
11 Things I Wish Someone Had Told Me—by Michael Patterson
1. Trust your own judgment.
2. Listen to others.
3. If your decision-making process is no better than 50 percent, flip a coin.
4. If the decision does not have irreversible consequences, make it as quickly as possible. Even the wrong decision will get you to the solution faster, since it will point out the error quickly so that you can correct it.
5. Don't take "no" for an answer.
6. Cut to the chase. Don't create more steps than are necessary.
7. Keep the noise level down, and don't contribute to your own. Filter them out. There are only so many minutes in the day—don't unknowingly allocate them or give them away.
8. In projects, money can buy your way out of problems.
9. Use the minimum number of people necessary to perform a function.
10. Asking for forgiveness is better than permission.
11. Bureaucracies are good and bad for the same reason: It's hard to chang the status quo.*
And speaking of bureaucracies: All personal and professional opinions presented by Michael Patterson are his own and do not necessarily represent the opinion or policy of NASA.