One of the most rewarding ways of understanding historical events is to quietly listen to those who experienced them firsthand. As time continually marches on and events remain stationary, experiencing firsthand accounts becomes more and more difficult.
In August 1945, 317 USS Indianapolis crew members of were alive with the ability to tell their incredible tale. In March 2008 there are 76. See photo album from the March 27 event.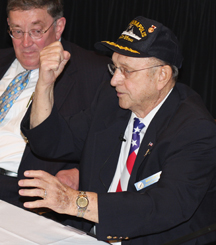 Fortunately for those who came to the Chapel on Thursday evening, some of those affected by the loss of the USS Indianapolis were at Wabash to tell their individual and sometimes harrowing tale. The event, sponsored by the Experience Indiana program brought to Wabash a panel of four individuals with different connections with that historic ship. Each member of the panel made some remarks about their connections to a packed audience in the Chapel and allowed for question time at the end of the evening.
Mike Kruyla, Jimmy O'Donnell, two survivors of the Indianapolis, described to the audience in great detail their account of events on the aforementioned ship and how they ended up surviving to tell their tale.
O'Donnell, who was from Indianapolis, IN, was drafted into the Navy at the age of 23 in 1944. He had been working for Allison, a firm that manufactured engines for vehicles and aircraft. As this was an essential service for the military, O'Donnell had been deferred a couple of times before.
"Finally they ran out of deferments," O'Donnell said, "and low and behold I joined February 13, which was a Friday. They asked me where I wanted to go into and I said the Navy which was probably a big mistake I guess."
Kruyla, who was from Chicago, IL, was 17 when he quit school to join the Navy. In order to allow him to enlist, his father had to sign a release.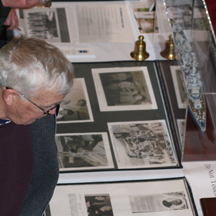 While each man took different paths to service, their recollections of the events involving the Indianapolis provided the audience with insight into some of the most important events during World War II. Each man remembered vividly the interesting crate that was loaded onto the ship while it was docked for repairs in San Francisco Bay.
"Come Sunday morning," O'Donnell said, "a truck backed up to the dock with Marine armed guards all around it. We looked over and they put these two crates on the hanger deck."
"We took off out of the gate a little fast," he continued, 'it was a little unusual. We stopped in Hawaii, but that was the only time we stopped. I think we made a record run over there – 29 knots, about 35 MPH. You could see the ship vibrating."
The anonymous crate loaded on that Sunday in San Francisco was 'Little Boy', the Atomic Bomb that would be dropped on Hiroshima.
Kruyla noted that an officer wanted some of the crew to understand at base what they had just delivered.
"'I just want to let you know what's going on,'" Kruyla told the audience the officer's words. "'You're probably all wondering what all this activity with these crates coming aboard the ship. What we have aboard the ship is something that will help shorten the war.' Well, all the sailors wondered, what the heck could that be in that crate? One guy said 'I know what's in that crate – its toilet paper for General MacArthur.'"
After delivering their cargo the Indianapolis steamed towards Guam. On July 30, a Japanese sub hit the Indianapolis in the side with two torpedoes sinking it to the bottom of the deepest part of the ocean, the Mariana Trench.
"I woke up and looked forward and all I could see is a big ball of fire," O'Donnell said. "I put a life jacket on, slipped into the water, swam a little ways, looked back and all you could see was the back end of the ship sinking. You got fuel all in your eyes and you threw up. Round your nose you couldn't hardly breathe."
"I got in a group (of survivors) stayed there five days," he continued, "You'd see planes fly over you all the time but they couldn't see you. Finally a plane was on submarine patrol and was flying low and saw a bunch of guys in the water."
Kruyla was on the deck at the time of the attack. After helping others get life preservers and rafts free, he found himself underneath the capsized ship with the deck of the ship in front of him and the bottomless ocean below. He attempted to swim down and to the left to get free of the part of the ship coming down on him.
"I kicked down and swam and she sucked me back," he said. "I kicked down and swam again and she sucked me back again. I was up against the deck. I figured, this is my end – I didn't think I was going to make it.
"You know," he continued, "they say your life goes before you…I see my mother, my father, my six sisters and my kid brother go right past me. I couldn't hold my breath any longer. I talked to God, I asked him for forgiveness and I blacked out. The next thing I know I'm up to the surface – I don't know how I got up there."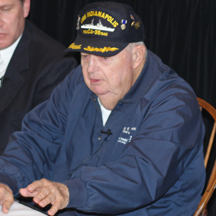 Krulya and O'Donnell were two of the lucky ones who survived. They fought off thirst, hunger and sharks for four days and five nights and were rescued on August 8th.
Along with Krulya and O'Donnell's stories, the Wabash community listened to the story of a son who never knew his father. Lt. Commander Early Henry Sr., father of Earl Henry Jr. died on the Indianapolis. Even though Henry Jr. never knew his father in person, the fantastic paintings, taxidermy, letters and sounds of his father communicated not only the father's passion for ornithology but the son's ability to connect with the father he never knew.
Henry showed a picture of his parents dining out in Memphis, TN few days before his father had to return to duty.
"They had dinner at the Peabody Hotel," he said, "and this is their last picture together. I think this picture is a thrill because my mother was carrying me. You can't see me, but I was there.
"I was born six weeks premature," he added, "He left about two days after this picture was taken and I was born about two days after that. I do know my father better than many people do and I'm blessed for that."
Jeffrey Nance, executive vice president of the USS Indianapolis Museum, provided the audience with a brief understanding of the history surrounding the naval vessel and the mission of the institution dedicated to its study.
"We want to educate the younger generation about the history of this ship and we attempt to do that by collecting artifacts from anyone who was on that ship during its 14 year history," Nance said. "We hope to create a special place to locate all of the history about the USS Indianapolis."
The audience in the packed Chapel seemed to elicit great value from the stories..
"I think that it gives us a human context of the history that we may not even understand now," President Patrick White said. "It's also a context for us of the human connection after all these years – a great liberal arts value to remember.
"To hear a man like Earl Henry talk about his father and the other men talk about their brotherhood and connection and the men they loss it extends their life through time. I think it is one of the things that is central to the liberal arts - that we won't be caught up in the contemporary – just in our time, just in our moment."
"I thought it was really fantastic," said Kyle Cassidy '08. "I think one of the best ways to understand and gain an appreciation for our shared history is to hear it from the people who lived through it.
"It's also especially important in cases like these where the storytellers are also war heroes, because I think the people tend to get a little hagiographical when they think of people like that."
In photos: Upper right, Krulya talks of his escape. Center, there was lots of memorabilia on display. Lower right, O'Donnell shares his memories.