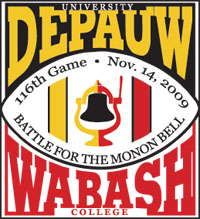 Tickets to the 116th Monon Bell Classic are now available on a first come, first served basis. The Wabash College Bookstore is handling all sales of tickets. Fewer than 300 tickets remain on the Wabash side of the field, while DePauw has sold out of tickets for its stands.
All tickets are priced at $15 for the game, which kicks off November 14 at 1 p.m. from Greencastle's Blackstock Stadium. Tickets for the annual battle between Wabash and DePauw will be sold in the Wabash Bookstore during normal hours, 9:00 a.m. to 4:00 p.m. Monday through Friday and on home football Saturdays.
Tickets are also available online using the Bookstore's Yahoo Store account. Click here to access the Wabash College Bookstore online. There will be a $10 shipping charge for all online VISA and Mastercard orders. Orders will be shipped via UPS to arrive before the game on November 14. Online purchases are limited to 10 tickets per order.
To expedite processing of your electronic ticket order, please use the online Bookstore rather than calling or emailing Bookstore staff.
When Wabash's allotment of 2,900 tickets is gone, there will be no further ticket sales. Both schools have agreed each year on ticket distribution based on stadium capacity, security, and the desire for all fans to have a seat. Creating a safe, fun environment for players and fans alike has been the joint goal of both Wabash and DePauw.
Gates will open at 11:30 a.m. the morning of the game. Blackstock Stadium parking lots will open at 9 a.m.