Indy - Partners in Housing
by Roger Neal '04 • October 12, 2007

Share: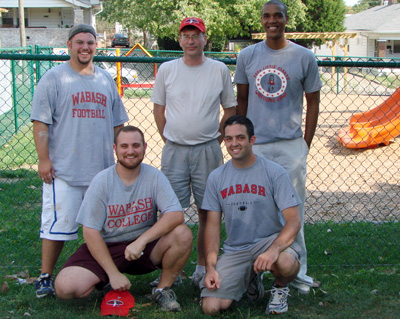 Five Wabash men including Don Feeney '07, Scott Jones '81, Parker Sawyers '05, Jacob Pactor '04 and Roger Neal '04 painted children's picnic tables for the playground at Colonial Park Apartments on the East side of Indianapolis.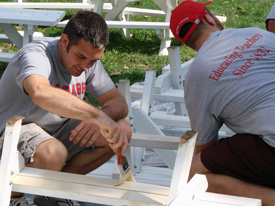 Colonial Park is owned and managed by Partners in Housing, an organization that creates and manages rental units specifically for the homeless, low-income or special needs populations in Indianapolis. Partners in Housing matches its residents with social service providers to help ensure its residents never return to being homeless again.
To be a resident of a PIH property a person must have income of at or less than 50% of the area's median income. Currently they operate nine properties near downtown Indianapolis.
Frank Hagaman '72 founded the company in 1993 and is its President.

Many thanks to Lee Ann Harper, Jim McCormick and of course Frank Hagaman '72 for hosting our third successful WABASH DAY at Partners in Housing.

In phot Group, Don Feeney '07, Scott Jones '81 and Parker Sawyers '05. Front two are Jacob Pactor '04 and Roger Neal '04. At bottom left, Neal applies a coat of paint.