Decatur, Ill. – The Little Giant defense dominated Millikin most of Saturday's game and made key plays when the Big Blue was able to move the ball. The result was a Wabash 28-6 win in sophomore quarterback Kyle Augustinovicz's starting debut. See photo albums: No. 1, No. 2, and Bachelor photo album.
Augustinovicz and Evan Sobecki ran for first half touchdowns. Brock Graham caught a short third-quarter pass and took it 50 yards for a score after Millikin's only touchdown, 21-6.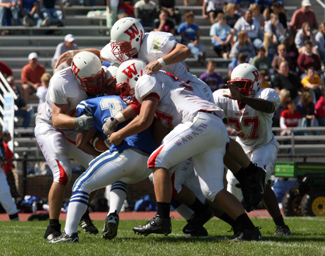 Linebacker Adi Pynenberg ripped the ball away on a third quarter Millikan drive. Defensive back Chad Peterman had an interception early in the fourth quarter. Though the defense did give up a third quarter score, it blocked the extra-point.
The icing on the defensive cake was Matt Kraft's 25-yard interception return with just five minutes to play.
Millikin (1-2) accumulated 421 passing yards on 32-of-53 attempts, but its quarterbacks were sacked eight times to kill scoring opportunities.
Pynenberg had 16 tackles to lead the Little Giants, a sack and three tackles for loss. Kraft added 11 tackles to his interception and score. Peterman complemented his interception with six stops.
"Our coaches told us to be ball aware and that they're really not holding the ball too tight," Pynenberg said when asked about his fumble recovery in the third quarter. "I almost got it out a couple of times. It just worked out that time that we were in a big mess. I saw the ball and got enough of it to get it out of the pile."
The Little Giants were particularly emotional and motivated following last week's loss of quarterback Dustin Huff to a severe ankle injury. Coach Chris Creighton asked his defense to step up and it did.
The bonus performance came from Chad Finley and punting team. Finley hit eight punts for an average of 38.9 yards and a long of 49. But Finley and the coverage team combined for six punts downed inside the 20.
"Coach (Tom) Allen has been working really hard with our punting," Creighton said. "The punting was phenomenal and the coverage was just as good. We pinned them inside the 20 several times and got them near the goal line a couple of times. We're really excited about our special teams right now."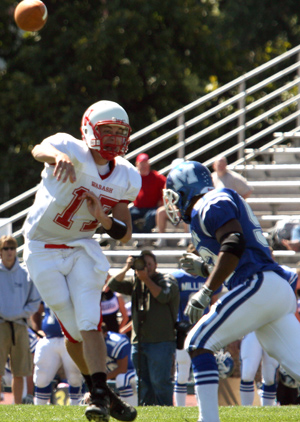 Augustinovicz turned in a workman performance as a sophomore replacing the fifth-year starter Huff. He hit on 22-of-30 passes for 230 yards, one touchdown, no interceptions. He rushed a yard for the game's first score.
"Kyle was far from perfect, but I didn't expect him to be perfect," Creighton said. "He made some good decisions and threw some nice balls. Anything that didn't go right is an opportunity to see the film and get better.
"I'm really proud of him. For being here just a little over a month he did a pretty darn good job."
Augustinovicz admitted to having some pre-game jitters. He didn't feel like he had to fill Huff's shoes. Once he got into the game, everything changed.
"Then I was calm, cool, and collected," Augustinovicz said. "The guys are amazing on this team. They really came together and gave me all the confidence in the world. They really have your back throughout anything. That really helps out quite a bit.
"Coach Creighton did an awesome job with me and Matt (Hudson). He basically let us know the pressure wasn't going to be on our shoulders, that everyone was going to step up. They did. That alone was just amazing."
Augustinovicz's start produced a career-day for Brock Graham. Graham caught 12 passes for 121 yards and a 50-yard touchdown.
The Little Giants (2-0) travel to Ohio Wesleyan to open NCAC play Saturday.
QUICK HITTERS
------------------
Adi Pynenberg's 12 tackles moved him over the 300-tackle mark. He has recorded 307 stops in his career, fourth-best on the Wabash all-time list. He added three tackles for losses, giving him 52 for his career. He trails BJ Hammer 01 for all-time record. Hammer made 58 TFL's while playing on the defensive line for the Little Giants.
Brock Graham caught nine passes for 99 yards in 2006. He eclipsed that total in three quarters against Millikin. Graham's 12 receptions tie him for ninth on the best single-game performance by a Wabash receiver. The last time a Wabash player had at least 12 catches came in 2006 when Geoff Walker had 13 at Franklin. Graham is also the second Wabash receiver to top the 100-yard mark this year. Bart Banach had 155 receiving yards in the Little Giants' win last week.
Tight ends Scott Liska and Kent Schaffer each had their first career receptions today. Liska caught a 13-yard pass midway through the fourth quarter. Schaffer's first catch came on a nine-yard toss from Matt Hudson. The pass was also Hudson's first career completion.
The Little Giants are off to a 2-0 start for the fourth time in seven seasons under Creighton. The last time Wabash opened the season 2-0 was in 2005 with wins over Kalamazoo and Washington University (St. Louis). Two of three times the Little Giants have started with two wins they have gone on to win the North Coast Athletic Conference title.
Results: Wabash 28, Milllikin 6