Senior Class Send Off
by Tom Runge • May 13, 2007

Share: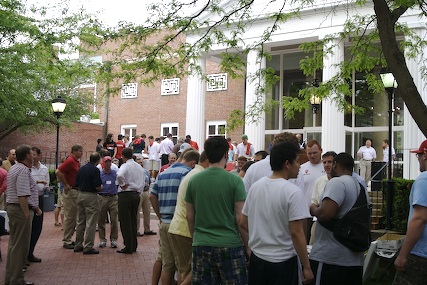 The Office of Annual Giving and the board of directors of the National Association of Wabash Men (NAWM) teamed up Friday evening to give the Class of 2007 a proper sendoff.
With less than 48 hours to go before Commencement, the seniors were relished their last few hours on campus and looking forward to beginning the next phase of their lives.
In a very brief program, Scott Himsel '85, who is a partner at Baker and Daniels in Indianapolis, teaches at the College, is a class agent and NAWM board member (!!!) challenges the senior to relish their memories of Wabash as they move on. He challenged them to be mindful of their Wabash experience and keep an eye out for other young men who would prosper with the same opportunities. He also pointed out that generation of past Wabash men have made it a point to keep Wabash strong - it's something Wabash alumni "do".
Joe Klen '97, director of Annual Giving, thanked the many seniors for their pledges to support Wabash financially and reminded them to stay in contact with their classmates and the College
Everyone wishes the Class of 2007 all the best!
For more photos, click here.