Pat Millikan, Steven Rhodes Earn Top Honors
by Steve Charles • May 12, 2007

Share: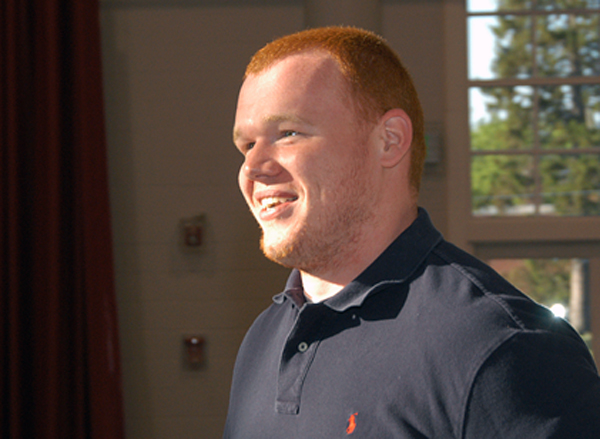 An All-Conference lineman taking an unconventional route to medical school and an award-winning chemist who worked for the National Institutes of Health have been presented with the College's top honors for graduates.
At the Dean's Breakfast Saturday morning, Dean of Students Tom Bambrey '68 presented Wabash Patrick Millikan (right) with the Frank H. Sparks Award for All-Around Student Achievement, given to a senior who has done the most "to promote the true spirit and purpose of Wabash College."
Dean of the College Gary Phillips presented chemistry major Steven Rhodes (below left) with the John Maurice Butler Prize for Scholarship and Character. The Butler Prize is awarded to the senior "having the best standing in scholarship and character." (See a photo album of Saturday's breakfast here.)
Millikan will attend medical school thanks in part to the NCAA Postgraduate Scholarship he earned earlier this spring. At that time, Wabash faculty athletics representative and English professor Tobey Herzog praised the Wabash religion major/art minor for taking "an unconventional and, I would argue, a more demanding route to achieving his goal of becoming a doctor."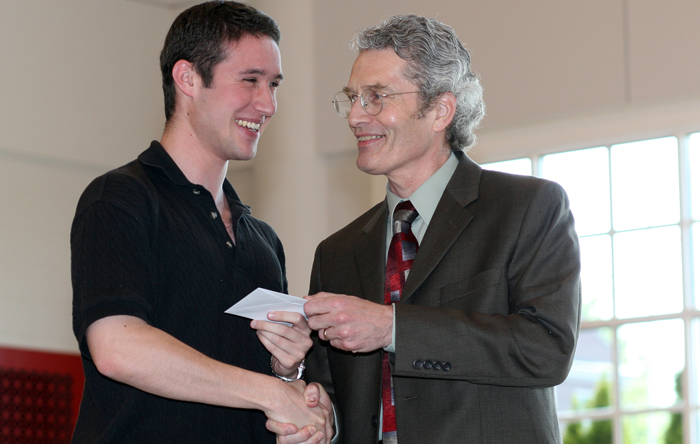 Rhodes' approach to medical school is unconventional as well. Inspired by his internship with the National Institutes of Health, the summa cum laude graduate will enter the combined M.D./Ph.D. medical scientist training program at Indiana University in the fall. The editor of the College's scientific journal, Erotan, Rhodes also won "top orator" honors his sophomore year in the College's Moot Court competition.
Dean Gary Phillips concluded the breakfast with his remarks, telling graduates that his favorite TV show is the game show Jeopardy, because "it's all about getting the question right."
"Knowing how to frame the right question leads you to the truth," Phillips said. "It is the heart of the liberal arts, the art of freedom."
A religious scholar whose speciality includes study of the Holocaust, Phillips shared his experience visiting the Holocaust Museum in Washington DC.
"Walking out of that museum, I have no answers, only questions," Phillips said. "There is no explanation—questions seem far more honest."
Quoting Rainer Marie Rilke's Letters to a Young Poet, he told the graduates to "have patience with everything that remains unsolved in your heart… Try to love the questions themselves…Live the question."
Living the question "allows us to live the truth," Phillips said. "It interrupts my daily self-sufficiency, keeps me asking Tolstoy's famous question, 'How then should I live?"
Photo of Pat Millikan by Professor John Zimmerman.