Rain Can't Dampen Spirits on Graduation Day
by Jim Amidon • May 14, 2006

Share:
Dawn broke on graduation day at Wabash with a mixture of cool temperatures and drizzle, forcing all activities inside, but the spirits of the men of the Class of 2006 could not have been higher.
Seniors began showing up to pick up their caps and gowns just after 8:00 a.m. this morning, some having rested a full night and others, perhaps, never having slept at all.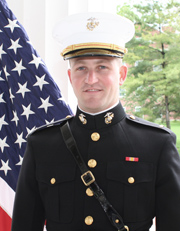 Senior Chris Doty was the busiest of all seniors early Sunday. He welcomed well over 100 friends and family members to his commissioning ceremony for the United States Marine Corps.
In addition to being commissioned by Marines officers, Doty took his oath from his sister, Mary Elizabeth, who is a Naval Academy graduate and officer in the United States Navy. Chris' parents, Vince and Anne Marie, pinned his second lieutenant bars on his shoulders in a ceremony marked by good wishes and tears
View a photo album of Doty's ceremony and Baccalaureate Chapel.
View a photo album of Sunday's preparations for Baccalaureate and Commencement.
Wabash graduate Alex Miller '71, an admiral in the United States Navy, dropped by the ceremony to wish the Doty family well. Miller was back on campus to receive an Honorary Degree at Commencement.
Another student, Gable Hackman, was also commissioned into the Marine Corps on Sunday afternoon. Hackman's ceremony took place immediately following graduation activities.
Seniors stood nervously in robes and mortar boards just inside Baxter Hall shortly before the 11 a.m. Baccalaureate Chapel service. Some joked around with friends, while others reflected on four fleeting years at Wabash.
English professor Tim Lake helped calm the graduates down in his opening remarks at Chapel.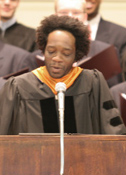 First, he saluted the 30 percent of the class that graduates with honors. Then he gave special attention to those men who would not graduate cum laude, magna cum laude, or summa cum laude. Lake said for many of the men in the Class of 2006, the most significant honors are to graduate "Thank You Lawdy."
Lake gave the invocation for Baccalaureate and Bill Placher, Lafollette Distinguished Professor in the Humanities, gave the Baccalaureate sermon.
Read a brief excerpt from Professor Placher's sermon.
Photos:
On the home page: Professor of Tim Lakes loosens up the gathering at the Baccalaureate Chapel.
Top: Chris Doty was commissioned a second lieutenant in the US Marine Corps.
Lower right: Tim Lake gives the invocation at Chapel.