Members of the Wabash community came together Saturday night to honor the Class of 2006 and President Andrew Ford and his wife Anne.
The Senior Dinner is an annual tradition that this year was used as a formal goodbye to President Ford. The tributes came from all segments of the College community.
The evening crescendoed with a salute to Anne Ford. Jay Fisher '66, President of the National Association of Wabash men, honored Anne Ford and made her an honorary alumna for the Class of 2006. (Click here for photo album.)
"Anne personifies the spirit and commitment that sets a Wabash man apart," Fisher said. "Wabash has never had a first lady quite like Anne. Wabash men and their families feel honored and welcomed when they return to campus."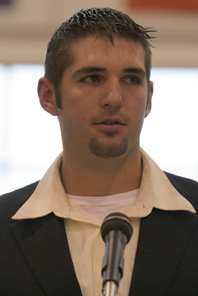 Jared Bogan, Struthers, OH., spoke on behalf of the Class of 2006 in honoring President Ford. Bogan, a history major, was honored May 11 by being named to ESPN The Magazine's Academic All-District V Baseball Team. During Awards Chapel, Bogan won the John F. Charles World History Prize, Caleb Mills Teacher-in-Training Excellence Award, Pete Vaughan Outstanding Athlete Award and Indianapolis Alumni Student Athlete Award. He has accepted a teaching position at North Montgomery High School.
"There is no one who I have seen in my four years here look more at home at Wabash, or have more fire and passion to offer his students than President Ford," Bogan said. "From the first time we sat in front of him as he rang us in, throughout the highs and lows that we as a campus and community have experienced together, to now just one day away from receiving our diplomas, one man has been a constant flame of spirit, character, wisdom, and compassion. Each of us here tonight can take comfort in the knowing that we need not travel far in order to renew our flame should we ever experience hardships and find it extinguished."
Bogan noted that 2,225 Wabash men have graduated during Ford's tenure and that all shared the honor of calling Andrew Ford their president.
"Those loyal sons have shared the experience of being rung out by a man whose acts, accomplishments and efforts have paved the path for our many successes," Bogan said. "Long in our hearts shall we sing thy praises and bear the sweetest memories of you, President Ford. From all the men of the class of 2006, for the achievements you helped us reach and for those which await us in the years to come, we thank you."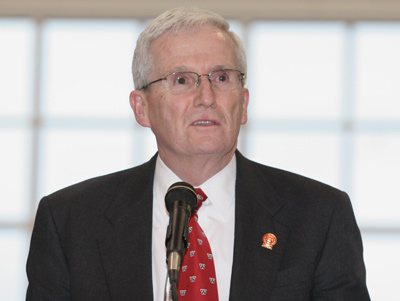 The evening was drawing to a close but the President had the last word. He joked that "first and foremost in retirement I want to meet this guy you all have been talking about."
He then reflected on the words of the evening and outpouring of love and respect. "I can't tell you how moved I am and Anne is," the College's 14th president said. "This is a special community. It doesn't matter if you have been here a long time or a short time. I don't know how it happens. I don't have any idea how this happens - but it works. I know how you have changed our lives and for that we're grateful, deeply grateful."
Earlier Brett Gann '07, vice president of the Wabash Student Senate, read a resolution honoring President Ford. Gann noted how the student body gathered near the end of the school year and some 200 Wabash men marched to Elston Homestead and sang "Old Wabash" for the Fords.
The resolution saluted Ford's impact on students and alumni. "President Ford, in his respect and love for the students of the college, has been looked to as a father by numerous Wabash students, through his friendship and service, a brother to countless Wabash alumni, and through his devotion as a loyal son of Wabash."
Bill Doemel, Director of Operations Center of Inquiry, represented the Wabash faculty and read a resolution passed by the faculty during its Friday meeting.
Steve Bowen '68 opened the evening's program with a brief roast of the retiring President, but ended his remarks on a serious note. "Andy Ford has been a shining example of what good leadership and good stewardship is all about," he said.
Joe Barnette '61, Chairman of the Wabash Board of Trustees, presented President Ford with a Sagamore of the Wabash from Indiana Governor Mitch Daniels. Horace Turner, retiring director of the Malcolm X Institute spoke briefly and presented Ford a plaque for his commitment to the MXI.

In homepage photo: Anne Ford, center, with Charlene and Joe Barnette.