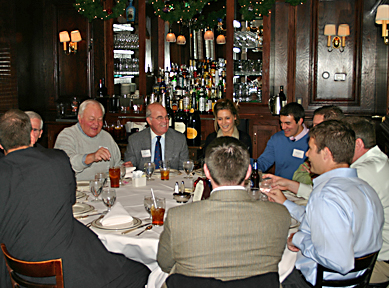 Almost 50 Wabash alumni and friends gathered at the downtown Chicago Maggianos for the traditional Wabash Club of Chicago Holiday luncheon.
Club president Greg Jania '93 welcomed the group which included many alumni leaders in addition to President Andy Ford H'03 and his wife Anne. Current Trustees in attendance were John Fox '64, Dudley Burgess '64, and Ray Kljajic '78. The luncheon attendees also included several past presidents of Wabash's alumni body, the National Association of Wabash Men (NAWM). That group included Fox, Burgess, Roger Lumpp '66, and Jim Kilbane '84.
After lunch, Jania talked briefly about the club's recent efforts to assist the Schroeder Center for Career Development's staff in using the alumni network in Chicago to help our students with career and internship opportunities. The Club recently held a networking event attended by over 40 students and 20 Chicago-area alumni. That effort was spearheaded by Jania and Brian Flanigan '96. Jania and Flanigan both serve on the NAWM board of directors.
Jania then introduced Wabash President Andy Ford H'03 for his remarks. Andy related the details of another great fall semester at the College, briefly outlined the on-going presidential search, the upcoming search for a new Dean of the College, and remarked that he and Anne looked forward to a long and close relationship with the Chicago Club.
Dick Stephenson '63 closed the luncheon with a toast to Anne and Andy Ford which erupted into a standing ovation.
Did you miss this luncheon? If so, mark your calendars for next year – Tuesday, December 12, 2006.
Many thanks to Greg Jania for setting up the luncheon – well done!
For more photos of the event, click here.