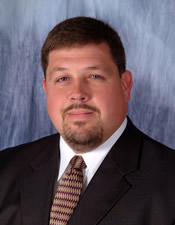 James T. "Terry" Riordan, Wabash Class of 1991, has been appointed director of human resources of Con-Way Transportation Services, Inc. He replaces J. Patricia Jannausch, who was promoted earlier this year to vice president of culture for CNF Inc., the corporate parent of Con-Way.
Riordan will be responsible for the management of all Con-Way human resource programs, planning, policies and services for Con-Way's 20,000 employees.
Riordan joined the Con-Way organization as a dockworker in 1992 at the Con-Way Central Express (CCX) facility in South Bend, IN. In 1993 he was promoted to account manager at the CCX Business Development Center. He was promoted to field account executive in 1994 and worked out of the Flint, MI service center. Two years later he was named operations assistant with responsibilities for properties at CCX. In 1997 he was promoted to manager of personnel for CCX. Since February of 2005 he has served as the service center manager in Richmond, IN.
"Terry brings a wealth of hands-on experience and knowledge to his new position. He is thoroughly familiar with how we operate and that will benefit Con-Way as he takes on this new assignment," said David S. McClimon, president of Con-Way Transportation Services. Riordan will report to McClimon.
Con-Way Transportation Services, Inc. is a $2.6 billion transportation and services company that provides time-definite and day-definite freight delivery and logistics services for commercial and industrial businesses in the United States, Canada and Mexico. All Con-Way operating components are ISO certified for 9001 and 14001 and the less-than-truckload and expedite units are C-TPAT/PIP certified and FAST highway carriers.
Information courtesy of Con-Way (www.con-way.com).