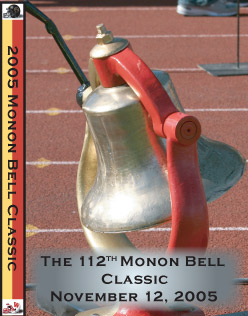 The DVD of the 112th Monon Bell Classic, produced by Sony Disc Manufacturing, is now available in the Wabash College Bookstore. The DVD includes approximately three hours of material, including every play of the hard-fought 2005 battle for the Bell, which Wabash captured by a 17-14 score in front of 8,000 fans. Also included are 21 "Monon Memories" of past games dating back to 1940; a photo gallery of the best shots of both teams; all-time scores; and the two schools' halftime videos.
Ken Owen, director of media relations at DePauw, edited and mastered the final DVD, as he has in each of the last five years. "Given that Hollywood studios take several months to put a DVD together, it's always a challenge to turn this project around in a few weeks' time," said Owen.
Owen and Jim Amidon of Wabash, co-produced the telecast of the game seen nationally on DirecTV and at more than 50 alumni parties across the nation. Photos on the disc's jacket and in the disc's photo gallery were taken by DePauw's Matt Bowen and Amidon.
"It's great for the players, their families, and alumni from Wabash and DePauw to have a permanent record of the game, and the extras reinforce the great traditions of this rivalry," said Amidon. "It may be small college football, but the Monon Bell Classic is a big deal." An online poll conducted this summer at ESPN.com determined the Monon Bell Classic to be Indiana's best sports rivalry.
The DVD is available at the Wabash College Bookstore, which also has in stock copies of the last four Monon Bell DVDs.