Capital University's Matt Coleman intercepted a Russ Harbaugh pass in the end zone with less than 2 minutes remaining Saturday to halt a Wabash College comeback and give the visiting Crusaders a 14-11 NCAA Division III playoff win.
The Little Giants had rallied in the final period from a 14-0 deficit and appeared poised to take the lead. Harbaugh rolled out from the 10-yard line and looked for Eric Summers. Coleman had inside position and battled for the ball. After the officials conferred, they ruled a touchback effectively ending the Wabash comeback. (See game photo album, courtesy of the Wabash College Athletics Department and NCAA.)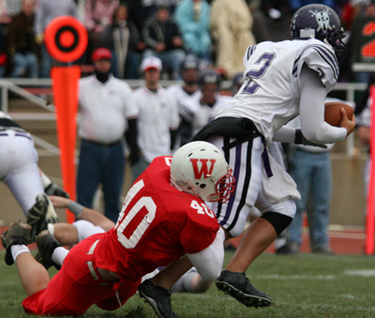 "They were running a lot of comebacks all day; their quarterback has an amazing arm," Coleman said of the interception. "I was kind of waiting, kind of baiting them for it and when I saw him break. I had my eyes on the quarterback and saw him throw it and I just came down with the ball."
Summers didn't believe either of them had it cleanly. "I was coming back for the ball and he made a great play on it," the senior wide out said. "We were both fighting for the ball and then I just saw the ball go out and we were both out of bounds. I felt neither one of us had possession of the ball."
Coleman thought he caught the ball and had it against his chest when he hit the ground. "I brought it in and he got his hand in there and we were both kind of fighting for it. I was on the ground and it just popped up in the air and I didn't know if the refs were going to give it to me or not."
Summers wasn't quite as certain about the sequence. "He made a great play," Summers said "He made it tough for the refs to make the call and they made the call and that's what we have to live with."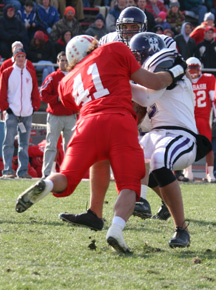 Capital scored late in the first quarter on a 12-play drive capped by Colin O'Reilly's 7-yard run and held that lead through the half. The Little Giant defense was dominating outside that drive and actually held the Crusaders to negative yards rushing. O'Reilly, who gained over 950 yards on the season, was held to minus-two yards on the day.
What appeared to be a back-breaking turn of events came late in the third when Jeremy Mulkey took a toss 65 yards to the Wabash 2-yard line. O'Reilly then covered the final six feet for the score, 14-0.
"As soon as I got the pitch I knew the outside was open so I just took off," Mulkey said. "I thought I had it for a touchdown, but they had an angle on me and I was running out of gas. They were flying to the ball all day. This was probably the toughest defense I had to run against the all year."
The Little Giants had a chance to score in the second quarter. Linebacker Andy Dieg picked off a Rocky Pentello pass at the 23-yard line. After a 13-yard completion to Geoff Walker, Crusader linebacker Sam Abdullah forced a Wabash fumble on the 2-yard line.
"It doesn't matter what game or what time of the game, if you turn the ball over you make it real hard on yourself," Wabash coach Chris Creighton said. "We're not so sure the second one was a turnover, but we know the fumble was. That's them making plays and us not making the plays."
The play-making Little Giant offense got untracked in the final period and on the board with a Chad Finley 29-yard field goal.
Following a change of possessions, Josh Foster gave Wabash the spark it needed picking Pentello off at the 38-yard line.
"We were bringing a lot of pressure today against their offense," Foster said. "And toward the end of game they started leaking out their running back to try to hit him in the flat. The quarterback tossed one and he bobbled it and I was closing on the ball, saw it, and just pulled it in."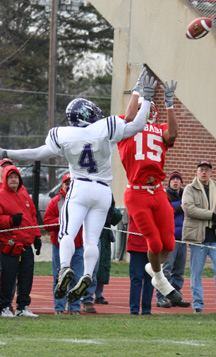 Kyle Piazza scored six plays after the interception for Wabash's first TD. Harbaugh hit Mike Russell for the two-point conversion and the Little Giant Stadium was rocking.
Wabash held on the next possession and took over following the punt and a 15-yard penalty against Capital.
Harbaugh hit Russell for 16 yards, ran for five more himself, then threw an incompletion before the dramatic and controversial interception.
Referee Craig Jeffreys refused to meet with a designated media pool reporter, as allowed under NCAA rules, after the game to explain the interception call.
"I really give a lot of credit to Wabash being down 14-0 and coming back," Crusader coach Jim Collins said. "They just battled all day long and never quit. They have heck of a football team. And I'll say this: that's one of the best defenses we played all year."
Both defenses were stingy. Wabash had 240 total yards to Capital's 239. Neither team could muster much of a running game. The Crusaders finished with 65 to Wabash's 33 yards; 65 yards came on Mulkey's breakaway run.
"I thought they were the best (defense we've faced), no question," Harbaugh said. "We heard coming into the game about their speed and they definitely didn't disappoint. Their ends were just flying off the ball.
"I didn't put the ball in the right place a few times and when you're playing a good team like that you're not going to complete the pass that way."
Harbaugh, who was named a finalist this week for the 2005 Gagliardi Trophy, finished the game 21-of-43 with one interception.
"They say 'Wabash Always Fights' and we're down 14-0 and nobody in this room saw any of our guys give up one iota," Creighton said. "We fought back and knew we were going to win the game. That's one of the reasons it hurts so much; we just knew we were going to win the game. Then, all of a sudden it says 0:00 and they had more points than we did."
Capital will face Mount Union in next weekend's regional finals. Wabash finishes its season at 11-1, the second most victories ever in a season.
Hewitt is Wabash College's Director of New Media/Web Editor. Photos courtesy of the Wabash College Athletics Department and the National Collegiate Athletic Association (TM)
In photos:
Top left: Adrian Pynenberg brings down Capital quarterback Rocky Pentello.
At right: Tim Parker records a sack.
Lower left: Ray Green hauls in a Harbaugh pass.
On homepage: Andy Dieg picks off a Crusader pass.
Results: Capital 14, Wabash 11
Game Stats