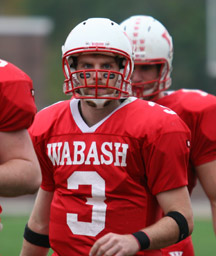 Wabash senior quarterback Russ Harbaugh (Evansville, IN/Bosse) is one of ten finalists for the 2005 Gagliardi Trophy.
Harbaugh, the 2005 North Coast Athletic Conference Offensive Player of the Year, has spent the season rewriting the Wabash and NCAC record books. Leading the Little Giants to an 11-0 overall record with a 7-0 conference mark to win the NCAC title, he became the first Wabash quarterback to throw for more than 3,000 yards in a season. Harbaugh is 252-of-351 passing for 3,324 yards and 29 touchdowns with just four interceptions this season. He is third on the Wabash career passing list with 6,921 yards. He has set records for single game and season completion percentages, passing yards in a Wabash win, single game total offense, and is closing in on the NCAC single season passing yardage and completion totals.
Harbaugh has been involved in the Wabash football reading programs and food drives. An English major and art minor, he produced and released the documentary "Beside Myself: Wabash, Men, and Co-Education" in the spring of 2005. He also spent the summer of 2005 working with the San Francisco Film Festival as a intern. Part of his work included working in nearby neighborhoods to bring an appreciation of art and film to San Francisco area youth.
Joining Harbaugh on the list of finalists for the 2005 award are:
Adam Knoblauch, quarterback, Delaware Valley College (PA)
Brett Elliott, quarterback, Linfield College (OR)
Ross Dillavou, defensive end, Loras College (IA)
Dusty Kain, wide receiver, Simpson College (IA)
Mitch Tanney, quarterback, Monmouth College (IL)
Justin Beaver, running back, University of Wisconsin-Whitewater (WI)
Doug Phillips, quarterback, John Carroll University (OH)
Damien Dumonceaux, defensive lineman, Saint John's University (MN)
Joe Rizzo, defensive back, Washington University-St. Louis (MO)
The Gagliardi Trophy is named for Saint John's University head football coach John Gagliardi, the winningest coach in college football history with 432 career victories in 57 seasons. The award, presented to the outstanding football player in NCAA Division III, honors excellence in athletics, academics, and community service. The award program is sponsored by Jostens, Inc. and conducted by the J-Club of Saint John's University in Collegeville, Minnesota. The winner of the 2005 award will be announced on Thursday, December 15 in Salem, Virginia during the week of the Division III national championship game.