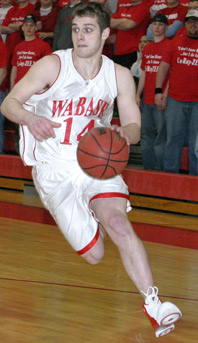 One point separated the 2004-2005 Little Giant basketball team from a trip to the North Coast Athletic Conference championship game. A talent-laden senior class will try to secure a spot in that title contest in head coach Mac Petty's 30th season at Wabash College. The Little Giants have made it to the semifinals of the NCAC Tournament five times in the past six seasons, but have only made the championship game once, falling short in last year's overtime loss to Wittenberg.
The quest begins Friday when the Wabash hosts the Little Giant Tipoff Classic. By Saturday afternoon, Petty should have a good idea just how talented his 2005-06 team is. Wabash will see three very good teams in the tournament, starting with Illinois Wesleyan University, the top-ranked team in Division III. The Titans open the tournament at 6 p.m. when they take on the University of Texas-Dallas, a 12,000-student Division III school. Wabash hosts Alma College in Friday's other first round game. Consolation and championship games begin at 1 p.m. on Saturday.
Senior guard Kyle Medeiros (6-0, 188; pictured on the right) returns after leading the Little Giants in scoring last season with a 9.9 points-per-game average, including a career-best 23-point effort at Denison. Medeiros led the team at both ends of the floor, pacing the Little Giants with 31 steals. Fellow senior guard Adonis Joseph (6-2, 174; pictured on the home page) was just off that pace, scoring 9.4 points a contest.
Senior center Kyle Coffey (6-9, 220) earned a place on the All-North Coast Athletic Conference Honorable Mention team after leading the league in blocked shots with 39. He also averaged 8.5 points and 4.9 rebounds a game. Caleb Lyttle (6-4, 210; pictured below left) added 6.7 points and 4.6 rebounds per contest while starting every game for the Little Giants last season. Lyttle provides bulk and offensive rebounding inside, while Coffey can hit inside and outside.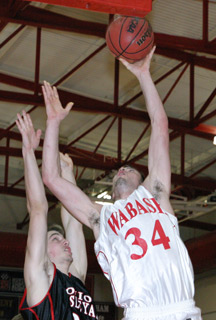 Senior Michael Woods (6-1, 205) became a significant role-player for Wabash last year, playing in 20 games and averaging 4.1 points a contest coming off the bench. Coach Petty thinks Woods is the best all-around athlete on the team. Last year he showed a knack for hitting three-pointers. Senior Jimmy Owens (6-1, 170) is back at a guard spot after spending his junior year in Italy.
Junior center Ryan Stephens (6-8, 245) brings size and experience off the bench for Wabash. The two-year varsity player averaged 2.4 points and 3.0 rebounds in 15 games last season.
Sophomores Gary Simkus (6-6, 180; pictured below right) and Andrew Zimmer (6-5, 215) made great strides last season. Simkus saw limited action in the first half of the season after suffering a dislocated elbow as a starter for the Wabash soccer team, but still managed to average 5.9 points and 3.1 rebounds a game. He played in 26 games, but started 10 of the last 11 games for the Little Giants. Zimmer averaged 6.1 points in 22 games and loves to take the ball to the basket.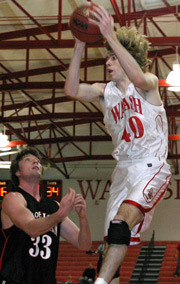 Guards Kyle McClammer (5-11, 170) and Ryan Nuppnau (6-0, 175) saw limited action for Wabash as freshmen, but should provide solid reserve support this season. Joining the pair is first-year guard Earl Rooks (5-8, 175), who played baseball for the Little Giants as a freshman.
Junior Dustin Huff (6-0, 215), sophomore Mike Russell (6-2, 177), and freshman Tyler Richey (6-4, 184) will join the basketball team at the conclusion of the Wabash football season. All three were talented high school players, but are playing college basketball for the first time this year.
Other newcomers to watch include former Andrean guard Collin Smith (6-0, 170) and Crown Point center Brian Maloney (6-6, 200).
The Little Giants will once again be tested all season long by some of the best teams in the nation. The schedule boasts three more top-25 picks in Wittenberg, Wooster, and Hanover. Wabash will also have to face strong competition in the NCAC to stay among the top teams in the conference after being picked third in the NCAC pre-season media and coaches polls.