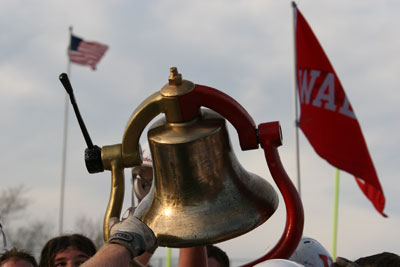 GREENCASTLE, Ind. - All week the Little Giants repeated, "They got it and we want it." Wabash won a defensive struggle to bring back the Monon Bell to the Crawfordsville campus with a nail-biting 17-14 win over DePauw.
The Little Giants take a 52-51-9 lead in the all time series and will enter next Saturday's NCAA Div. III playoffs at 10-0 and as a No. 1 seed in the Midwest region. Be sure to click here to read up on Wabash's first round playoff opponent, Albion.
A packed Blackstock Stadium rocked throughout Saturday afternoon as both team's defenses dominated early play. The Little Giants turned the tide with two second-half scores and shut down DePauw on its final possession. (See game photo album for lots of action shots.)
"It's not that we ever take it for granted but it's a more of a special feeling when you haven't had it for year," running back Chris Ogden said. "It's tough and the memory of them taking it from our field stayed with us for the whole year. We felt this was our destiny and our game to win."
Ogden provided the first big spark. The Tigers had taken a 7-3 halftime lead on Jeremiah Mark's 1-yard score. Late in the third period, the Little Giants marched 62 yards on six plays to go up 10-7.
We had been trying to run the ball up inside and we ran down field on them pretty well," Ogden said. "We got to the goal line and they tightened up. We tried a play action pass, then on fourth down we decided to attack on the perimeter. We ran a little option play and they committed to the run, Russ made a great pitch, and I was home free. I think they were looking for the pass, especially out of the shotgun."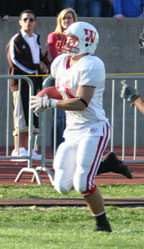 The back breaker for the hosts came midway through the final period. Quarterback Russ Harbaugh (photo below left) didn't have a day on par with his first nine games, but made a key call at the right time hitting Kyle Piazza (in photo right) with a 37-yard TD pass. Piazza got great downfield blocking from his fellow receivers.
"That was like the only good check I made all day," said Harbaugh, who finished 15-27-1 for 178 yards. "They had two defenders over our three receivers, so any time we see that we like to check to our bubble. Kyle is an athlete and he just took it into the house."
Wabash coach Chris Creighton said Harbaugh has done a great job of calling audibles all year. "They made it tough on us today to see what we wanted to do. A lot of that is credit to DePauw. That TD pass — I had nothing to with that. He checked to that and it was a perfect call and ended up being a touchdown. Russ is a winner and got it done for us."
But the Tigers weren't done yet. They answered the Wabash score by marching downfield in just 1:51 and scoring on a 21-yard pass from Ross Wiethoff to Chase Johnason.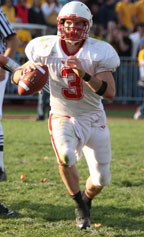 Geoff Walker then had one of the game's biggest plays. The junior took the ensuing kickoff and returned it 47 yards to give the Little Giants breathing room.
Following a pooch kick by Little Giant Chad Finley, the Tigers had one more possession but the Little Giant defense held them to claim the Monon Bell. Frank Knez had a key sack of Wiethoff to force a fourth-and-23 pass that fell incomplete.
"Our defense has been nothing short of sensational all year long and they came up big today," Creighton said. "Our staff and our players knew we had a good plan. We played an offense that's tough and those guys can run the football. Ross (Wiethoff) is just an incredible athlete. He makes things happen and he was making things happen against good football players.
"Our offense is going to need to return the favor in the playoffs because we didn't keep our end of bargain."
The tense contest was played in front of a sold-out crowd of 8,000 that spent most of the final quarter on its feet.
"This one by far was the most nerve wracking game we've had," said defensive back Billy King. "It's a little easier to be out on the field because you can get out of control, but the fans were probably going crazy. They have a great defense and their offense moved the ball well. They started passing and throwing the ball deep but we prevailed."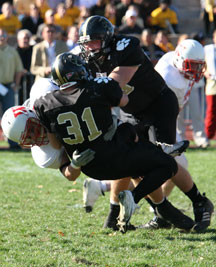 Sophomore Adrian Pynenberg dominated much of the line play from his linebacker's position. He had 9 solo and 11 total tackles.
"The guys played really hard and played really well," said defensive coordinator Neal Neathery. "I'm really happy how we played against the run. I know we wish it was a little better; we're a little greedy."
Greedy indeed; the Little Giants held DePauw to 77 yards. The Tigers normally average 242 yards a game. Aaron Selby had five tackles and one for a loss (photo right).
The stats reflected the competitive nature of the game. Wabash had 79 to DePauw's 77 yards on the ground. The Little Giants gained 178 through the air to DePauw's 174.
The even play, hard hitting, huge crowd, and intense atmosphere made for the usual crazy Bell game atmosphere.
Freshman defensive back Chad Peterman had a couple of big plays breaking up passes.
"This was rather exciting," the freshman said with an understated smile. "It was a whole different atmosphere than I'm used to playing in. It was a lot better than I even expected or dreamed of."
QUICK HITTERS ---Russ Harbaugh's 178 yards give him 2,964 yards for the season, topping the Wabash
record of 2,954 set by Jake Knott '03 in the 2002 season. Knott's previous record came in 13 games, including three playoff games, while Harbaugh's new single season record came in ten games.
--- Today's win marks the first time in 21 years the Bell has been exchanged in back-to-back years. The last time came in 1983 and 1984. DePauw captured the Bell with a 16-10 win in 1983, only to see the Little Giants reclaim the Bell with a 41-26 win in 1984.
--- Wabash trailed at halftime for the first time this season. It's the second time the Little Giants have rallied from a third quarter deficit to win. Wabash trailed Wittenberg 20-14 before defeating the Tigers 26-20.
Photos by Jim Amidon
Homepage: Kyle Piazza dives for the endzone. His 37-yard reception from Russ Harbaugh was the winning score.
Results: Wabash 17, DePauw 14
Game Stats