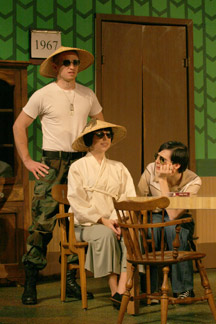 The Wabash College Theater Department will present its second theater production of the season, The Vietnamization of New Jersey, which will run November 9-11 in the Ball Theater in the Fine Arts Center. The performances are scheduled for 8 p.m. each evening and there is no charge for admission.
The play starts off with a New Jersey family who await their son's return from Vietnam. Upon his return they discover he is blind and now has a Vietnamese wife. Allow bedlam to ensue.
Instead of performing the annual studio one-act plays, senior theater majors elected to mount a full-scale production. Students were responsible for casting, directing, designing, costuming, and acting in the play.
The Vietnamization of New Jersey is directed by Denis Farr and designed by Donald Claxon. The play stars Jessica Eidenberger, Danny Lippert, Matt McKay, Mark Mattern, Reynaldo Pacheco, Peter Wagner, and Richard Winters.
The play starts out in a modest, mild-mannered New Jersey kitchen and spirals out of control from there. The play's entertaining characters deliver a fast-paced gut-punch of a performance that is both humorous and tragic. The play is a triumph for Farr, Claxon, and the entire cast and production crew.
There are some scenes and situations not suitable for young children.
For tickets contact the Fine Arts Center Box Office by email at boxoffice@wabash.edu. Box Office hours are Monday through Friday, 8:30 a.m. to 12 noon and 1:30 to 4 p.m. The box office will open 90 minutes before curtain time for theater events.