The following information comes from Scott Crawford, director of the Schroeder Career Center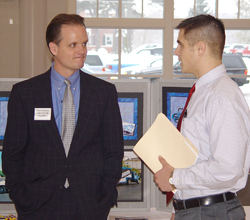 It is with great pleasure that the Schroeder Center for Career Development at Wabash College announces the creation of a structured, protected Online Alumni Career Network, The Exchange. Your participation in The Exchange will allow current students to network with you for career-related reasons. Alumni who would like to network with other alumni for the same purpose have the option of opening an additional 'user' (student) account, which will allow them to access the networking capability, our job listings and other resources we've connected with our system.
Why This Is So Great
The beauty of this system is that you can choose to participate as much or as little as you like; you select the reasons you may be contacted, how often, and by what method. The Exchange is housed in our WabashWorks (E-Recruiting) system (formerly known as WallyPower) so your information is password protected as well. It is important to note that The Exchange completely replaces all previous such systems through our office. We are starting from scratch to make sure all the information in the system is new and fresh. In addition, those alumni who would like to take advantage of the networking services and our other online resources will have the ability to do so.
For more information, contact Scott directly by email (crawfors@wabash.edu) or phone (765-361-6355).
For Scott's complete memo, click here.