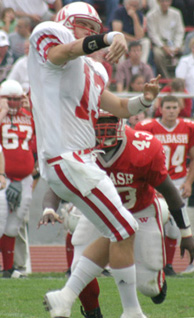 _______________________________________________________________
"This game will be a war." — Chris Creighton
_______________________________________________________________
Anybody who thought Wittenberg University's 0-3 start might mean the Tigers were off a bit in 2005 was dead wrong. Coach Joe Fincham again has Wittenberg flying high and contending for the North Coast Athletic Conference championship, which pollsters predicted prior to the start of the season.
Since beginning the year with losses to nationally ranked Capital and Alma, and a loss at Division I, non-scholarship Dayton, Wittenberg has been tooling right along with whopping victories over NCAC rivals Denison (31-6), Earlham (48-0), and Hiram (66-0). Defensively, Wittenberg has not only held its last three opponents to just six points, but it has been dominant in doing so. Against Hiram last week, the Tigers chewed up the Terriers, holding the guests to puppy dog-like numbers: 44 yards passing, minus-45 yards rushing, for a net total of minus-one yard of total offense. Two of Hiram's three first downs in the game came via Wittenberg penalties. The Tigers haven't allowed a point in 174 minutes or the last 11 quarters.
So Saturday's game between Wabash (6-0; 4-0) and Wittenberg (3-3; 3-0) features the league's best two defenses against the league's best all-around offenses. To say that this is the game of the year in the NCAC is an understatement; this one is for all the marbles: a league championship and playoff berth are likely to be the spoils for the victor.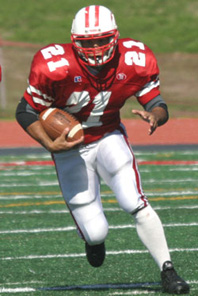 Wittenberg comes in at full strength offensively with the return of senior quarterback Ryan Holmes, whose 11-for-18, 137-yard, three-touchdown passing performance in part-time duty last week suggests he's fully recovered from a broken collarbone. Because the game was a blowout, Coach Fincham ran the ball 62 times for 311 yards and four scores. All-NCAC back Tristan Murray rushed for 65 yards and two touchdowns, while catching another touchdown pass. For the year, the 5-10, 205-pound senior has rushed for 763 yards and 11 TDs.
Wittenberg also features speedster Jered Glover at wide receiver, who is backed by Braden Freeman and Mark Harriman. Tight end Nate Cherry will be the best at his position Wabash has seen this year. None of the receivers boasts eye-popping statistics, primarily because of Holmes' injury and the fact that Wittenberg averages 211 rushing yards per game. Glover, though, is also a dangerous return man for both punt and kickoff returns, and is one of the fastest sprinters in Division III.
By averaging 32.5 points per game offensively, the offense has overshadowed Wittenberg's defense this year. But the defense, after a couple of tough outings at the start of the year, has been stifling.
Safety Mitch Fonseca has been a beast with 50 tackles and three interceptions this year. Linebackers Tyler Harmon and Walter Bonham have 29 and 26 tackles, respectively, and both have made big plays behind the line of scrimmage. The team's most effective run stopper has been Matt Stechschulte, a 6-4, 235-pound lineman who has 28 tackles, two sacks, and 6.5 tackles for loss. Hiram's longest run from scrimmage last week was seven yards, and no Hiram back finished with positive rushing yardage.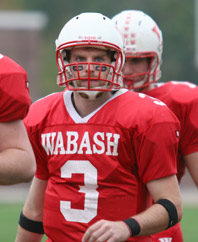 "They've got one of the best, if not the best, quarterbacks in the conference," says Wabash Coach Chris Creighton. "They have one of the best, if not the best, receivers in the conference. They've got, hands down, the best running back in the conference. Their offensive line is always good. Their defense gets after you and does so many things very well. They were out of synch due to their schedule and injuries at the beginning of the year, but now it's all coming together for them."
Which brings us to the showdown Saturday. Wittenberg hasn't faced an NCAC team with the speed and balance that Creighton's team boasts. The Little Giants come into the game as the only undefeated team in the conference and riding the confidence of a 44-10 win at Wooster last weekend. In that game, Russ Harbaugh was named to the D3football.com National Team of the Week after throwing for 452 yards and four touchdowns, both career-highs. Eight different receivers caught passes in the game, led by Eric Summers with seven for 151 yards and a touchdown. Chris Ogden added 107 yards rushing to the offense, which generated a season-best 654 yards on the Scots' homecoming.
Wabash's receiving corps has been driving defensive coordinators nuts all season. Five players have more than 17 catches on the season and five average more than 13 yards per catch. Say that you want to take away Geoff Walker (26 catches, 436 yards, 3 touchdowns) and you still have to contend with Kyle Piazza (26-250-1). If you double team Summers (25-380-3), Mike Russell (21-373-5) might beat you. Tack on Ray Green, whose 18.3 yards-per-catch average is best on the team, and tight ends Graham Nelson (4 TDs) and Tim Schirack, and Wabash boasts perhaps its best corps in history.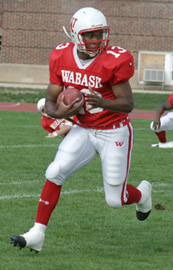 But this game will likely come down to defense. Wabash has given up only one first-half touchdown all year and has held teams to an average of 6.5 points per game. The team holds opponents to just 1.7 yards per rush, which will be tested mightily by Murray this week. Murray has scored 11 rushing touchdowns this year; Wabash has allowed only three through six games. Something's got to give!
Wabash's defense will be as close to full strength this week as it has been all year. Nagging injuries linger, but Billy King (hand), Aaron Selby (foot), Tim Parker (groin), and Adrian Pynenberg (knee) will all start. Pynenberg intercepted his third pass of the season at Wooster, and leads the team with 42 tackles, 14 tackles for loss, and six sacks. Josh Foster is second with 30 tackles, while Jared Lange leads all down linemen with 28 tackles, 10.5 tackles for loss, and three sacks.
"This game will be a war," said Creighton. "It will be hard fought and physical. We'll spread it out and so will they, so it won't be a smash-mouth type of game. It will be good, solid, technical football. They will be at their absolute very best, and we should be at our absolute very best. It will not be an easy game for either team."
The defensive key to today's game may be the same for both teams: get pressure on the quarterback and contain the running backs. Offensively, both teams want to control the clock, make some big plays, and wear down the opposition. Sounds like a war is about to break out!
Photographs:
Above right: Wittenberg quarterback Ryan Holmes is pressured by Tamarco White in the 2003 game.
Above left: Tristan Murray averages 127 rushing yards per game (photo from Wittenberg University).
Bottom right: Beating Wittenberg was a coming out party of sorts for Wabash's Russ Harbaugh in 2003.
Bottom left: Eric Summers is coming off a career day vs. Wooster (shown vs. Wittenberg in 2003).